Aseem Varma – VP Mergers & Acquisitions at DSM: 'Relentless pursuit of excellence'
Laatst bijgewerkt: 20 July 2023 13:27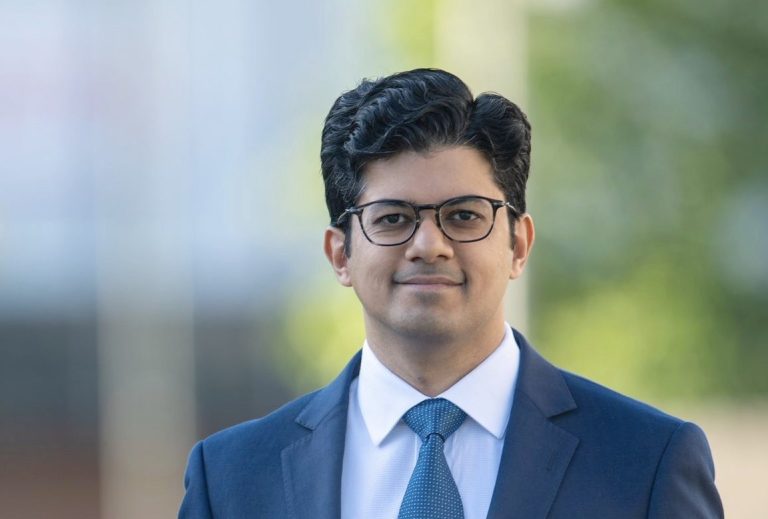 In just over a month, DSM announced three multibillion-dollar deals, the last of which was a future-defining merger with Swiss company Firmenich. A more spectacular next step in the decades-long transformation of the multinational company from Heerlen is hardly conceivable.
Photographs: Ermindo Armino
On April 20, 2022, DSM announced the sale of DSM Protective Materials, producer of Dyneema® – the world's strongest fiber, to Avient Corporation for 1.44 billion Euros. On May 31, a spectacular double announcement followed. First, a second divestment, this time of the Engineering Materials division, the business unit that produces – amongst other things – high-quality polymers for the automotive and electronics markets, which will be transferred to the private equity investor Advent International and the German chemical company Lanxess for an amount of 3.85 billion Euros. Last but not the least, this was followed by the announcement of the proposed merger of equals with the Swiss company Firmenich, the second largest manufacturer of fragrances and flavors in the world.
DSM shareholders will receive two-thirds of the shares in the combined company and the Swiss family that owns Firmenich will also receive 3.5 billion Euros in cash for the transaction. When the merger is completed, the combination will have a dual headquarters in Kaiseraugst, Switzerland, and in Maastricht, the Netherlands. Co-CEOs Dimitri de Vreeze and Geraldine Matchett will lead the combined group, which describes itself as the leading creation and innovation partner in the fields of nutrition, beauty and well-being.
DSM-Firmenich, as the new combination will be called, will maintain a strong presence in the Netherlands. The second head office will soon move from Heerlen to a historical building in Maastricht. The stock exchange listing will also remain in Amsterdam. Moreover, this means a substantial strengthening of the headquarters of the Food and Beverages division in Delft with a turnover that more than doubles (from 1.1 billion Euros to 2.7 billion Euros), an expansion of the R&D center for biotechnology in Delft and continued participation in knowledge networks such as PlanetB.io and Food Valley. The other three divisions, with a turnover of 8.7 billion Euros, will be based in Switzerland.
M&A Magazine visited DSM's Aseem Varma, who as Vice President Mergers & Acquisitions was one of the architects of these global deals. In particular, he played a key role in the divestments of the Materials divisions.
Can you tell us a bit more about your background and how you ended up at DSM?
I started my career about 17 years ago as a commodities trader with Louis Dreyfus, a French multinational. A few years later, I decided to pursue an MBA and thereafter transitioned to M&A as a profession. In 2010, I joined Emergent Ventures – a private equity backed company – where I led strategy & investments in clean technology assets in Asia (wind, waste-to-energy, solar, biomass plants etc.). In 2013, I joined DSM in India and in early 2014 I moved to the Netherlands to join the corporate M&A team. Over the years, I have worked across a breadth of transactions (acquisitions, divestments, joint ventures and partnerships) across businesses.
How would you describe your role?
I act as a partner for the different business groups in DSM to develop an M&A pipeline, evaluate opportunities and lead execution on M&A projects. Most recently, I have had the responsibility for leading the transformation of our portfolio through the divestment of our materials businesses.
What does your M&A team look like?
We have a 'lean and mean' M&A team-setup consisting of a core M&A team of five individuals. The team is headed by Philip Eykerman, who is a DSM Executive Committee member and also President of the Health Nutrition and Care (HNC) business. So, it's a pretty lean core deal team. For projects we complement the team with cross-functional team members who are experts in different fields such as legal, HR, Finance and ICT.
What were the biggest highlights for you in the eight years you've been working at DSM?
To answer that question, it is important to take a moment to reflect on what we want to achieve as DSM. DSM is a global, purpose-led company in Health, Nutrition & Bioscience, applying science to improve the health of people, animals and the planet. DSM's purpose is to create brighter lives for all. DSM's products and solutions address some of the world's biggest challenges while simultaneously creating economic, environmental and societal value for all its stakeholders – customers, employees, shareholders, and society at large. From this broader perspective we should view the M&A activity of DSM.
Once started as a company active in coal mining, DSM (Dutch State Mines, red.) has been on a transformational journey. In the eight years I've been working at DSM, this journey has continued and even accelerated. Just before I joined DSM in 2013, the acquisitions of Martek, Ocean Nutrition, Fortitech and Tortuga were completed. The focus over 2013 – 2018 was to integrate these acquisitions while doing a string of smaller bolt-on acquisitions to strengthen our nutrition portfolio as well as divest/ carve-out non-core businesses in pharmaceuticals (DSM Pharmaceutical Products, DSM Sinochem Pharmaceuticals) and materials (Composite Resins, Caprolactam and Acrylonitrile).
Since 2019, we have been strengthening our activities in health and nutrition through a series of acquisitions: CSK (2019), Glycom (2020), Midori (2021), First Choice Ingredients (2021) and Vestkorn Milling (2021). And recently, in June 2022, we acquired the Brazilian animal feed specialist Prodap. At the same time, we continued our transformation towards a nutrition, health and bioscience company by announcing the sale of our Resins and Functional Materials Business (signed in 2020 and closed in 2021). In September 2021, we announced our strategy to accelerate this transformation and also announced the strategic review for the remainder of our Materials businesses, as well as five so-called Food System Commitments – a series of new quantifiable commitments aimed to address urgent societal and environmental challenges linked to how the world produces and consumes food by 2030. Fast forward to 2022, when we announced the sale of Protective Materials in April to Avient Corporation and in May the sale of Engineering Materials to Advent International and Lanxess. We took the next step in this decade-long transformation journey a few weeks ago when we announced the intention to merge with Firmenich to become the leading creation and innovation partner in nutrition, beauty and well-being.
The divestments of the materials divisions were crucial for the transformation. How did you approach this process?
The process was relatively straightforward as our strategy was clearly defined and mapped out in advance. Regarding the divestments of the two Materials businesses, we had announced a strategic review as part of our strategy to accelerate our transformation towards a Health, Nutrition and Bioscience company.
So the strategy was determined, what were your objectives for the transactions?
Broadly speaking, there were two main goals. It was crucial for DSM to find good new homes for these businesses and the employees, while at the same time creating shareholder value through the divestments. We believe we have achieved both these objectives with the announced transactions.
How did the negotiations go on these deals?
Negotiations are like a game of chess and that's what makes it so interesting. But it's a game where at the end of the day, when both parties leave the table, they should leave with a feeling that they achieved what they pursued. There are always quite a few things you try to arrange in those negotiations: maximizing value and minimizing risk for DSM while still finding a win-win solution for both parties. Therefore, you try to find the balance between what is important for both parties. That approach has absolutely worked well with these divestments.
What was the impact of the macroeconomic uncertainty and the war in Ukraine?
The current macroeconomic and geopolitical conditions are creating challenges in M&A, especially with volatile debt markets. Fortunately, the companies are strong and continue to deliver excellent performance. Thanks to the fundamental strength of the businesses, the ESG profile and also through a disciplined approach to execution throughout the process, we have made these deals a success and achieved our goals.
DSM has a strong culture of purpose, innovation and sustainability. How are these values embedded in the deal process?
Sustainability and ESG are indeed core values for DSM, and we look to partner with companies that share these values. We assess the culture and values of a partner during the due diligence exercise for acquisitions and partnerships. The importance of these values is also highly appreciated by the buyers of our Materials businesses and greatly contributed towards the success of these divestments.
How important are these values to you personally?
Very important. I believe that at work you ideally end the day feeling that you've done something good for DSM and for the world that we live in. And at DSM you get that feeling every day, because whatever we invest in and in all the things that we do as a company, we always have the interests of people and planet in mind.
How was the news about the divestments received within DSM?
It provided clarity, both internally and externally and the people involved are happy and relieved that 'new homes' have been found for these companies. The buyers are companies that have growth and development in mind and that creates a lot of opportunities for the people in those companies and for their personal and professional growth. So, I think there was a lot of excitement amongst people about what's in store for them and what they can create for the companies together with these new owners.

What do you think are important skills and knowledge to have as an M&A director?
Firstly, you need to be a 'jack of all trades and still master of some'. You should have the drive to learn about, and the ability to understand and connect the dots on topics across the board ranging from business and strategy to specialist areas like IT, HR, tax, pensions, treasury, legal, communications etc. while having a sharp eye for and expertise in corporate finance, M&A process and contract negotiations. As a transaction lead, it is my job to understand implications of the transaction across functional areas and use this knowledge to maximize value and limit risks for DSM.
Secondly, people skills are crucial. You should have the ability to work with and motivate large cross functional teams, while maintaining relationships with key stakeholders and communicating effectively with business leaders, ExCo, Supervisory Board as well as with counterparties.
Last but not the least, it is important to be agile. You need the ability to creatively think on your feet while still making sound decisions, read people and situations and be able to adapt accordingly. These skills come in handy throughout the transaction process but especially during negotiations.
Do you also need a lot of knowledge about the 'specifics' of a company, such as the materials business in this case?
Absolutely, both for divestments and for acquisitions. You really need to dive into the details and understand what you're buying or selling. Of course, you don't have to run the business yourself, but you have to work closely with the business leaders who will be at the driver's seat. As a transaction leader, you need to understand what the impact is and what is good for DSM and what is not. And it is also extremely important to actively share your experiences with the people in the business. Having worked on many transactions, I have learned lessons in one company that I can apply to another. M&A is akin to a team sport – a deal is successful only when the whole team performs.

What are your current priorities?
From an M&A perspective, the near-term focus is on completing the carve-outs of the materials businesses and preparing for the integration – subject to closing – of the DSM-Firmenich deal. We will continue to work with the businesses to identify M&A needs and opportunities.
Overall for DSM, the priority continues to grow our businesses and continue our purpose led, performance driven culture. Once the merger with Firmenich has completed, the focus would be to successfully integrate, realize the announced synergies and create the leading creation and innovation partner in nutrition, beauty and well-being with a continued purpose-led commitment to people and planet. For further details, I would recommend that your readers have a look at the recent Capital Markets Day presentation made by DSM and Firmenich.
What are the most important lessons you've learnt over the years when making deals?
You can have great ideas on why a deal makes sense, but unless you can back it up with excellent preparation and execution at every step of the process (for due diligence/ strategy development, valuation, negotiations, integration/ carve-out, etc.) it could still result in failure. In my view, the relentless pursuit of excellence in execution is the single most important element that differentiates between success and failure in deal-making, and even more so in times of macroeconomic uncertainty.


PERSONAL
Year of birth: 1984
Place of residence: Maastricht and Luxembourg.
Family: Wife and son, another child expected in September.
Hobbies: Tennis, running, swimming, reading (especially biographies).
Latest book: Amazon Unbound by Brad Stone.
Perfect holiday: I have a busy job, so I prefer a relaxed beach holiday.
Movie/streaming: The last movie I watched was Top Gun: Maverick and it was great.