Dit zijn ze! De genomineerden voor de M&A Awards 2022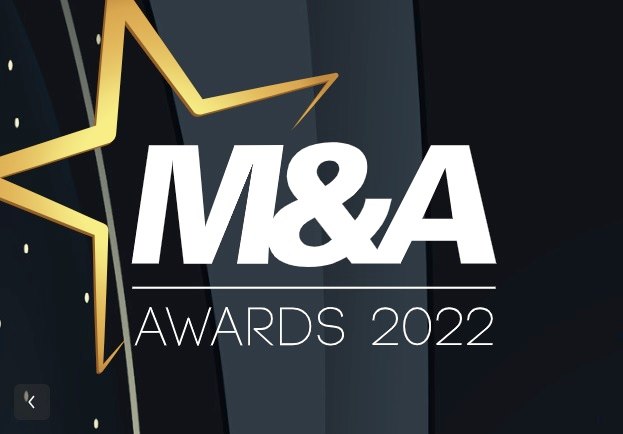 Wie gaan er op 15 december met een felbegeerde M&A Award naar huis? Dit zijn alle kanshebbers.
Op 15 december 2022 sluiten we het jaar voor het eerst sinds 2019 weer af met de traditionele M&A Awards in de Beurs van Berlage. Het belooft weer een prachtige avond te worden om te reflecteren op een succesvol dealjaar, oude bekenden te ontmoeten en de vele afgeronde transacties te vieren.
Welke deals, firma's en professionals mogen op deze avond een award in ontvangst nemen? Wie worden door de M&A Community gezien als de absolute toppers? Dit zijn de genomineerden van 2022:
Best Deal
3G Capital – Hunter Douglas
AVR – AEB
DIF Capital Partners & PGGM – Fudura
DSM – Firmenich
KKR & Co. – Accell Group
LANXESS & Advent International – DSM Engineering Materials
Best Deal Mid-Market
APG & Omers Infrastructure – Groendus
De Variabele – Caspar de Haan
Inflexion Private Equity – Enviolo
McCain Foods – Scelta Products
Recorded Future – Hatching
Sonos – Mayht Technologies
Best Deal Small Cap
Bidfood Nederland – Zegro
COIM – Synres
CORIUS – Mauritskliniek
Egis – Nebu Transport Services
Lineage Logistics – H&S Coldstores
Podimo – Dag en Nacht Media
team.blue – Leadinfo
Van Gelder – Stam & Co
Vermaat Groep – Join Program
Best M&A Advisor
Bastiaan Vaandrager, Rothschild & Co
Cassander Verwey, J.P. Morgan
Eric Wijs, Lincoln International
Oscar Nettl, Rabobank
Rob Oudman, Houlihan Lokey
Sander Griffejoen, Rothschild & Co
Best M&A Advisor Mid-Market
Jan de Wilde, Nielen Schuman
Jeroen Valk, EY
Jorn van Etten, PwC
Martijn Koops, Lincoln International
Tim Boer, ING
Tom Beltman, Marktlink
Best M&A Lawyer
Arne Grimme, De Brauw Blackstone Westbroek
Jan Louis Burggraaf, Burggraaf & Hoekstra
Jan-Hendrik Horsmeier, Clifford Chance
Onno Boerstra, Van Doorne
Lennard Keijzer, De Brauw Blackstone Westbroek
Michiel Pannekoek, Houthoff
Best M&A Lawyer Mid-Market
Bram Caudri, Houthoff
Diederik Baas, CORP.
Harmen Holtrop, Loyens & Loeff
Jasper de Jong, Allen & Overy
Matthijs Ingen-Housz, INGEN HOUSZ
Wytse Huidekoper, deBreij
Best Debt Advisor
Alexander Olgers, Deloitte
Derk Jan Kwik, KwikGielen Corporate Finance
Ludovic Beukers, EY
Marcel van de Wijdeven, Nielen Schuman
Rafael Gomez Nunez, Nielen Schuman
Thomas Schouten, Deloitte
Best Transaction Services Advisor
Age Lindenbergh, Alvarez & Marsal
Arnoud Oltmans, Deloitte
Ewald van Hamersveld, KPMG
Joost Siemensma, SINCERIUS
Remco van Daal, PwC
Wilbert van den Heuvel, PwC
Best M&A Tax Advisor
Anne Mieke Holland, EY
Edward Rijnhout, NautaDutilh
Frederik Mulder, Atlas Fiscalisten
Matthijs Wierenga, Atlas Fiscalisten
Ronald van de Merwe, JSA Tax
Rowdy Schouten, JSA Tax
Best M&A Law Firm
Allen & Overy
Clifford Chance
De Brauw Blackstone Westbroek
Houthoff
Loyens & Loeff
NautaDutilh
Best Dutch M&A Law Boutique
CORP.
deBreij
INGEN HOUSZ
JB Law
Stek
Vriman M&A Lawyers
Best M&A House
AXECO
ING
J.P. Morgan
Lincoln International
Marktlink
Rothschild & Co
Best Private Equity House
3i Private Equity
CVC Capital Partners
KKR & Co.
Parcom
Rivean Capital
Waterland Private Equity
Best Private Equity House Mid-Market
Bencis Capital Partners
Capital A
Egeria
Gilde Equity Management
Main Capital
Mentha Capital
Best Private Equity House Lower Mid-Market
Active Capital Company
Bolster Investment Partners
Gilde Healthcare
H2 Equity Partners
Karmijn Kapitaal
Quadrum Capital
Best Family Office
Foreman Capital
HAL Investments
Navitas Capital
NPM Capital
Reggeborgh Invest
Strikwerda Investments
Best Hands-On Investment Firm
5square
H2 Equity Partners
Newion
Nimbus
Standard Investment
Torqx Capital
Best Venture & Growth Capital Provider
EQT Life Sciences
Fortino Capital
Gilde Healthcare Venture & Growth
Holland Capital
HPE Growth
Prime Ventures
Best Acquisition Finance Provider
ABN AMRO
Ares Management
Dutch Mezzanine Fund
ING
Rabobank
Tikehau Capital
Best ECM Deal
De-SPAC of Dutch Star Companies Two with Cabka
De-SPAC of EFIC1 with Azerion
De-SPAC of Odyssey Acquisition with BenevolentAI
De-SPAC of Pegasus Entrepreneurs with FL Entertainment
IPO of Ariston
IPO of MotorK
Best Young M&A Lawyer
Dirk Berendsen, Clifford Chance
Dirk Panis, NautaDutilh
Dominique Coumans, Allen & Overy
Eline de Ruijter, Loyens & Loeff
Jacob Hoogslag, Hogan Lovells International
Josephine de Bok, Houthoff
Magalie Zindel, Baker McKenzie
Maud Kallen, Taxand Nederland
Maxim Terweij, Norbruis Clement Advocaten
Sanne de Graaff, Pellicaan Advocaten
Thijs Verstraten, Lexence
Best Young M&A Advisor
Aaron CJ van Gils, Rabobank
Bas Denissen, Vondel Finance
Emma van der Stoop, IRIS Corporate Finance
Floris de Klerk, DEX International M&A
Job Zoer, Lincoln International
Remco van Gulijk, IMAP Netherlands
Sander Kramer, William Blair
Simon Derdelinckx, ING
Ton Kremer, Alvarez & Marsal
Best Young M&A Private Equity Manager
Bart van Schuppen, AlpInvest
Bas Jasperse, NewPort Capital
Claire de Jager, Karmijn Kapitaal
Joost van der Sluis, Bolster Investment Partners
Jorgos van Rooijen, Active Capital Company
Joris van Aken, Torqx Capital Partners
Sjoerd Aarts, Main Capital Partners
Sjoerd Smaal, KKR & Co.
Best Diversity Firm
Allen & Overy
Baker McKenzie
Clifford Chance
Deloitte
DLA Piper
Eversheds Sutherland
Freshfields Bruckhaus Deringer
NautaDutilh
Rabobank
Stibbe
Meer informatie over de M&A Awards is te vinden op maawards.nl