Pitch Best Young PE Manager: Marijn Silvis – Holland Capital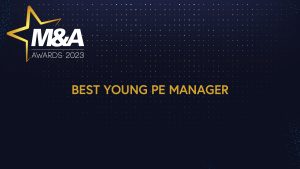 Name: Marijn Silvis
Company:  Holland Capital
Job Description: Investment Manager
Age: 33
What are the specialties of this talent?
Marijn is a very approachable colleague, standing out because of the quality and sharpness of her analyses. As a PE-firm it is of importance to know a little bit of everything, so that you can have discussions on a wide variety of topics with portfolio companies, advisors and leads. Marijn can show that she knows a lot of everything; as a healthcare investor she has extensive knowledge of various subsectors within healthcare, she is an expert in financial analyses, understands legal docs, fiscal matters and can have in-depth discussions on the strategy of a portfolio company. This makes her a strong colleague and counterpart, that stands out because of a level of quality and good judgement in assessing deal opportunities. In addition, she shows a high level of reliability towards her team and portfolio companies which is valued by everyone that is working with her.
How does the talent distinguish itself from its peers?
She clearly has her own 'style' in her way of working. As opposed to many of her peers in the M&A sector, her way of communication is characterized by listening to others, cooperation, approachability and she is down to earth. This brings about a level of openness when working with Marijn, which is greatly appreciated by people sitting on the other side of the (negotiation) table. We have seen that this can create a level of respect, relax or soften up entrepreneurs in negotiations, in the end resulting in rewarding her the deal. Her ability to think strategically about a negotiation, fully eliminating her own ego and feelings and putting the interest of the deal first, makes her a successful Investment Manager. In our opinion, she has been able to prove that having a different style can result in success, which is extraordinary in this sector.
What impact does the talent have within the organization?
Within Holland Capital we value diversity in our teams, so it is great to see that Marijn is able to set her own course in a world that is still quite masculine. She is a good example of how to go about things differently. In addition, the quality of her analyses sets the bar high for her colleagues within Holland Capital. One personal trait that specifically stands out within the organization is her level of empathy towards her colleagues. Team members feel she is easily approachable, they can talk with her about their own career path and points of development, to which she is happy to contribute – she frees up a lot of her time for them. To us, this is a definition of having impact – she sets the example of how we would like the organization to operate.
What impact does the talent have outside the organization?
External stakeholders feel respected and heard by Marijn, they see her as a very pleasant counterparty to work with. She is appreciated because she finds the right balance between truly listening but also telling it like it is when that is needed. She is honest, clear and direct in her communication hence representing Holland Capital with integrity. When she applied for a job at Holland Capital, she specifically applied for a role in the healthcare team as she feels this is a sector where she together with Holland Capital can have a positive impact in professionalizing companies, contributing to increasing the quality of the healthcare system in the Netherlands.
To what extent does the talent makes the difference to clients?
Replacing 'clients' by our portfolio companies as we do not serve clients as a PE firm; one of the CEO's of a portfolio company for which Marijn is responsible referred to her as a 'pillar of strength' – rots in de branding. This summarizes several of the strengths mentioned above. It shows how much she is valued by people, and also indicates her level of willingness do be there for someone. She is hard working and engaged with the companies that she is responsible for, willing to go the extra mile for them. This is a clear example of why people do not feel any boundary in calling Marijn for help.
Why does the talent deserves this nomination?
The combination of her sharp analysing skills, a refreshing way of communication which is direct and clear, but combines listening and assessing the conversation, and her approachability makes her an all-round talent that is doing things differently compared to the majority of the sector. She has shown that with her skillset, she can source deals, charm entrepreneurs, negotiate the transaction and work together with the (new) management on its future growth. As Holland Capital stimulates diversity in this sector, she very much deserves it to be put in the spotlight for once – Marijn herself is humble so does not draw too much attention to her own success. That's why we want to do it for her nominating her for this award.

Stemmen is niet meer mogelijk