Pitch Best Young M&A Lawyer 2023: Vivian van de Haterd, Houthoff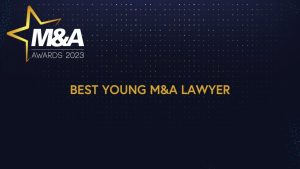 Name: Vivian van de Haterd
Company: Houthoff
Job Description: Lawyer | Senior Associate
Age: 32
What are the specialties of this talent?
Vivian has been with Houthoff since the start of her training and is currently one of our more experienced senior associates. She has numerous experiences as lead associate in M&A transactions for both private equity and corporate M&A clients. In 2022 to 2023 she was seconded to Travers Smith in London, United Kingdom, adding more experience to international transactions. In the last few years, she specialized in assisting clients in rather complex investment and joint venture structures, mostly in transitioning industries.
How does the talent distinguish itself from its peers?
Those who meet Vivian for the first time see a powerful person who is as genuine as she is direct. She is real and exactly what she appears to be. The people she works with, including clients and team members, are invited to step up their game. Those lucky enough to work with Vivian, including clients and team members, know that underneath that powerful layer is a person who is highly caring about others and dedicated to the matters she is involved in. Adding resilience to the mixture, Vivian allows herself to be the best version of herself when doing M&A.
What impact does the talent have within the organization?
Vivian is an example to many colleagues and can be considered an exemplary 'Houthoffer'. Her enthusiasm and dedication are contagious. She energizes people with her spirit, smile and guidance and, despite her busy schedule, always finds time for small talk or a few uplifting words when she senses someone needs it. She makes a real impact on our wider M&A team through group cohesion by initiating and organizing gatherings for the younger M&A team and the team as a whole. Earlier this year she was part of the organizing committee for the 'Heidag', a day organized for Houthoff M&A to set and align goals for the near future.
Without her involvement, this day would not have been as successful. Last year, Vivian was seconded to Travers Smith in London. Her fellow- foreign associates at Travers Smith were eager to write a recommendation for Vivian: "Vivian is a highly dedicated associate and provides legal advice at a top level. Furthermore, she is always a pleasure being around – especially for social events" – Line Johanne Østergaard Andersen (Plesner) "Vivian is a professional and personable attorney who is dedicated to providing exceptional client service. As a colleague, I often relied on Vivian's sound judgment and thoughtful consideration" – Andrew Norkiewicz (Choate, Hall & Stewart)
What impact does the talent have outside the organization?
In a relatively short period of time, she managed to successfully integrate into the team and to adopt a foreign law system. In the words of Andrew Gillen, head of corporate M&A and ECM at Travers Smith: "During Vivian's 9 months in the corporate M&A team at Travers Smith we were enormously impressed with how she managed to adapt to advising clients in a different market and legal system, quickly establishing herself as a very popular and highly valuable member of the team demonstrating very strong technical and client management ability.
This demonstrates Vivian's resilience. We have also experienced that it doesn't matter what challenges life throws at her, it being personal or business, Vivian has demonstrated how to overcome these challenges and quickly spring back into a better version of herself.
To what extent does the talent makes the difference to clients?
All senior associates should have technical skills, analytical skills, communication skills and leadership skills to successfully assist a client. Vivian checks all these boxes. Where she stands out is that she has the ability to show attention to detail and review the work, even amid a pressure cooker.
Rik Leunissen (partner at Torqx) describes his recent experiences with her during Project Century: "Vivian has been instrumental in successfully delivering our recent Project Century transaction (Elcee Group) in an expedited timeline, stepping up into the deal captain role managing the entire HF team on its broad set of workstreams. All the while she remained very calm, focused and pleasant to work with."
Nicolas Martin from the French law firm Jeantet describes Vivian as: "a young talented lawyer with a solid legal expertise, always delivering high quality advice tailored to clients' needs. In addition to being on the top technically, Vivian also always having a positive mindset (even in stressful situations), which is greatly appreciated. It is always a big pleasure working with her on a cross border transaction!"
Why does the talent deserve this nomination?
Vivian deserves this nomination like no one else. In a corporate environment it is not always easy to remain genuine and dedicated. Vivian manages to do so. By doing so, Vivian inspires other people to also stay authentic. This is a trait we value highly at Houthoff and believe would be beneficial to the wider M&A community.

Stemmen is niet meer mogelijk