Rianne Roozeboom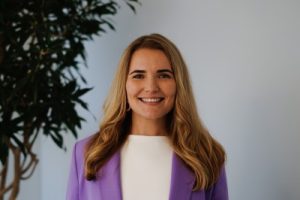 Rianne Roozeboom
Company: Corporate Finance International
Job Description:  Vice President
Age: 28
What are the specialties of this talent?
In Dutch midmarket M&A, one name stands out as a testament to excellence in her role in the field – Rianne Roozeboom. As a talented M&A advisor within Corporate Finance International, Rianne Roozeboom possesses a unique set of qualities that not only distinguish her as an outstanding professional but also as an inspiring figure in promoting gender diversity within this industry. She is specialized in deal execution in midmarket M&A in a top supporting role, with a beautiful female touch in handling clients' relationships and within multiple sectors, varying from business services to hard core industries.
One of the foremost qualities that set Rianne Roozeboom apart is her deep expertise and extensive industry knowledge. She has demonstrated an exceptional understanding of the intricate details of M&A transactions, honed through her 6 years of experience. Her ability to navigate the complexities of midmarket M&A in the Dutch corporate landscape reflects her dedication to mastering her craft. In M&A, success depends on more than just financial acumen; it requires a strategic vision. Rianne Roozeboom possesses an innate ability to see beyond the numbers and identify synergies and growth opportunities. Her strategic insight enables her to guide clients through transactions that not only maximize value but also align with their long-term business objectives.
How does this talent distinguish itself from its peers?
What distinguishes Rianne from her peers is 3 things: effective communication, cultural sensitivity, and resilience:  Effective communication is a cornerstone of any M&A advisor's success. Rianne Roozeboom excels in this area, displaying excellent interpersonal skills that foster trust and cooperation among stakeholders. Her ability to communicate complex financial concepts in a clear and accessible manner empowers her clients to make informed decisions.
Rianne Roozeboom's cultural sensitivity and adaptability have been instrumental in building relationships with diverse clients and counterparts, without losing her authenticity. Her ability to bridge cultural and personality gaps is a testament to her effectiveness as an M&A advisor. Rianne Roozeboom's tenacity and resilience have been instrumental in overcoming hurdles in M&A processes. Her unwavering commitment to her clients' goals ensures that she goes the extra mile to see deals through to completion, even in the face of adversity, even if that means closing the office multiple nights a week.
What impact does the talent have within the organization?
Next to being a fantastic professional, Rianne is also a genuinely nice person. As head of the party committee at our office, she drives me (her managing partner) mad by requesting permission for party activities. And not only does she come up with them, but she also organizes them and heads the pack wherever she deems it fun to take us. So, she sets the tone at the office in that sense.
What impact does the talent have outside the organization?
For the world around her, Rianne also has a more serious part of her character as she is also a strong advocate for gender diversity within the entire M&A field, and especially within CFI. As a successful female M&A advisor, she serves as a role model and inspiration to aspiring women within our team, but her daily efforts to promote gender diversity not only benefit her clients and colleagues but also contribute to a more inclusive corporate finance sector.
To what extent does the talent makes the difference to clients?
In Dutch midmarket M&A, Rianne Roozeboom shines as a beacon of excellence and innovation. Her professional qualities as an M&A advisor, including her expertise, strategic vision, communication skills, cultural sensitivity, tenacity, and resilience, have positioned her as a trusted partner in the corporate finance arena at a very young age. Moreover, her advocacy for gender diversity underscores her commitment to making the industry more inclusive and diverse.
Why does this talent deserve this nomination?
Rianne is both professional and personal, a fantastic colleague to work with. And besides her excellence in M&A, also dedicated a lot of time helping out colleagues and advocates for the greater cause of inclusion and diversity. Everything together she should win the award by a landslide.

Stemmen is niet meer mogelijk