Pitch Best Mid Cap Deal 2023: Zig acquires Cegeka Real Estate Solutions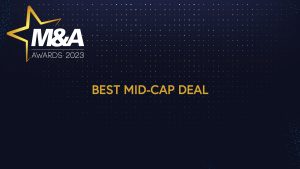 Stem op deze deal via de stempagina: Mena.nl/genomineerden-best-mid-cap-deal-2023
Name of the deal: Zig and Cegeka Real Estate Solutions join forces

Date announced: 29-09-2023
Date closed: n/a
Published value: Undisclosed. Enterprise Value € 100 – 150 million
Buyer(s): Zig Groep Holding, backed by Main Capital Partners
Target(s): Cegeka Real Estate Solutions B.V. ("CRES")
Seller: Cegeka Business Solutions Holding B.V. (part of Cegeka Groep NV)
Involved firms and advisors
Involved firms and advisors buy side:
Private Equity management: Main Capital Partners
Legal advisor: Lexence
Financial DD: Deloitte
Tax advisor: Deloitte
Tech DD: SIG
Involved firms and advisors target:
Legal advisor: Cordemeyer & Slager
Involved firms and advisors sell side:
Legal advisor: Cordemeyer & Slager
Pitch
Zig, a Dutch company that develops software solutions for housing corporations, student housing providers, institutional investors and commercial property managers, has acquired Cegeka-dsa, a Dutch company that delivers a full range of software and services for the real estate market. The combination results in a company that can support its customers in all core processes related to the supply, rental, purchase and development, maintenance and sale of real estate.
Brief description deal / Deal outline
The leading CRM software supplier and the leading ERP software supplier in the Dutch real estate sector have joined forces. The combination results in a company that can support its customers in all core processes around supply, leasing, acquisition and development, maintenance and sale of real estate.
Why should this deal win the Award for Best Deal Mid-Cap?
This highly complex and transformational deal brings together two market leaders within the Dutch PropTech market through a strategic carve-out of Cegeka Group's real estate software vendor, creating a unique end-to-end proposition for (social) housing associations and commercial property managers to streamline all core processes and enhance efficiency.
Deal rationale:
Housing associations and commercial property managers regularly experience limitations in their software environment that hinder process innovation, elevate costs and prevent optimal service delivery to tenants. Therefore, Zig and CRES have joined forces to help solve their customers' challenges by bringing the full product offering under one roof and jointly work on further developing it.
Zig and CRES provide complementary software solutions to the Dutch real estate industry. Zig is the market leader in CRM software whereas CRES has the #1 position in ERP software within the Dutch real estate sector. In addition, both parties provide data analytics and BI solutions. The combination results in a unique end-to-end product portfolio which can support its customers in all core processes around supply, leasing, acquisition and development, maintenance and sale of real estate. It furthermore functions as a powerhouse ready to scale up internationally.
What is the impact of this deal for the company?
CRES will form a core part of the Zig Groep whereas for Cegeka Groep the CRES business unit was rather non-core (as Cegeka (>1bn revenue, based in Belgium) focuses on Consultancy services). Subsequently, the deal allows continued investments into (product) innovation for CRES whilst the company can benefit from each other's existing development and Marketing & Sales capabilities. Also, the deal provides concrete cross-sell opportunities for CRES to sell their product to Zig's existing customer base (and vice versa) which is expected to accelerate revenue and will spur organizational growth. Finally, the combined group will become more appealing to (Tech) talent which is beneficial for the organization's future growth and performance. By combining the companies, the group will have c. 300 employees and over 225 customers in the Dutch real estate market.
What is the impact of this deal for the direct stakeholders?
The deal has a significant positive impact on direct stakeholders. For customers, the deal creates a unique end-to-end solution offering for all core processes, improving tenant satisfaction, and enhancing efficiency – the latter is especially important within the social housing domain. For employees, the combined organization offers enhanced growth potential resulting from the larger size. For suppliers, the combined group becomes even more robust. Lastly, for the shareholders this combination is a testament to Main Capital's expertise within the PropTech market, of building large B2B software groups, and provides an interesting return outlook for thecurrent and new investors.
What is the impact of this deal on society?
Zig and CRES both mainly operate in the Dutch (social) housing association domain, in which seamless processes and enhanced efficiency are of vital importance to guarantee a great comfort of living (Dutch: 'Woongenot') for a large part of the social housing stock in the Netherlands, which makes up for almost 70% of total rental market. Therewith, Zig/CRES' solutions also (indirectly) impact quality of life within >2 million rental units (equalling an even higher number of tenants) within the Netherlands. By joining forces, both companies can achieve a better integrated product offering for their customers. This enables them to achieve their organizational goals faster, such as strengthening tenant relationships, organizing business processes more efficiently and improving data-driven decision making, ultimately improving customer (in this case employee and tenant) satisfaction. The real estate industry is all about the synergy between tenants, property and finance and Zig, together with CRES, is now fully able to offer a seamless customer experience and accelerate and sustain innovation.
What was most complex about this deal?
The deal was highly complex, amongst others due to the following aspects:
The deal required a strategic carve-out of corporate Cegeka Group, headquartered in Belgium. Although from a legal perspective it was a Dutch deal (Dutch Target, Selling entity and Buyer), in fact it was a cross-border carve-out from a Belgian corporate – including all corresponding requirements.
Due to the size of this transaction, Main Capital had to join the captable as shareholder with 2 additional funds alongside the fund which already invested in Zig Groep back in 2021. One of the funds already existed, but the other one was raised solely for the purpose of investing in the combination and providing firepower in the form of equity for follow-on buy-and-build aspirations of the group, in other words a Co-Investment vehicle. This significantly increased complexity, workload, and investor communication. In addition, due to the size we had to extend our financing package from one lender to a consortium of two with likely a third one joining inthe course of 2024. Please note we completed the transaction without external M&A advisors (nor did Cegeka have one).
Transformational combination of two equally sized business, requiring an extensive integration plan and well-thought-out strategy on key integration aspects such as HR, Tech, Commercial etc. Key aspects in integration where among others combined brand name, new office location and management board structure. Mind you, the 'add-on' in this case Cegeka Real Estate Solutions was a larger company than Zig itself.

Stemmen is niet meer mogelijk