Pitch Best Deal 2023: NIBE acquires CFL from Parcom Capital and Smile Invest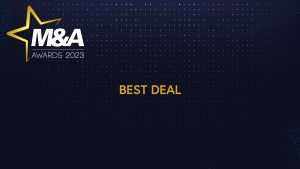 Stem op deze deal via de stempagina: Mena.nl/genomineerden-best-deal-2023
Name of the deal: The acquisition of 100% of the shares in CFL Holding ("Climate for Life" or "CFL") by NIBE Industrier AB ("NIBE") from Parcom Capital and Smile Invest
Date announced: 12-06-2023
Date closed: 26-07-2023
Published value: € 640 million
Buyer(s): NIBE Industrier AB ("NIBE")
Target: CFL Holding ("Climate for Life" or "CFL")
Seller: Parcom Capital and Smile Invest
Involved firms and advisors
Involved firms and advisors buy side:
Financial advisor: ABN AMRO
Financial Due Diligence Advisor: Mazars
Legal advisor: Delphi, Lexence
Tax Advisor: Mazars
Involved firms and advisors target:
Financial advisor: Morgan Stanley
Financial Due Diligence Advisor: KPMG
Legal advisor: De Brauw Blackstone Westbroek
Involved firms and advisors sell side:
Financial advisor: Morgan Stanley
Financial Due Diligence Advisor: KPMG
Legal advisor: De Brauw Blackstone Westbroek 
Tax advisor: Meijburg & Co
Pitch
Brief description deal / Deal outline
NIBE and CFL are both household names in climate solutions with a strong heritage, similar business values and culture, as well as a long-term commitment to the industry. The two businesses have an overarching geographical footprint and are together one of the largest and leading climate solutions providers in Europe. Looking back on a very competitive auction process whereby we were advising NIBE in the middle of strong competition from other strategics. Apart from the clear rationale of acquiring CFL, the size and limited time to come to a fully binding offer, made this a very intense, challenging, but ultimately very rewarding process. With a loyal and very hands-on management team of NIBE, we were able to come to a very successful transaction, for all stakeholders involved.
Why should this deal win the Award for Best Deal 2023?
This deal should win the Award for Best Deal 2023 for multiple reasons:- With their products and services, both NIBE and CFL are important enablers of the energy transition- It is one of the few high-profile cross-border transactions that was announced in 2023, with a clear EGS profile and a clear example ofa successful Dutch company that was supported by Private Equity, ultimately becoming part of a global market leader. Part of the deal was the protection of non-financial covenants like the (Dutch) heritage, employees, headquarters and the CFL brands which have all been ensured to be preserved- Highly interesting deal dynamics, as a result of a very competitive process with a lot of strategic interest.
Deal rationale:
Parcom Smile Invest and management were considering a sale of CFL, while also wanting to find a new strategic partner for CFL that could further realize its growth ambitions while having the right fit with the company's corporate culture and long-term strategy.
For NIBE the acquisition of CFL was an opportunity to combined become one of the most leading and largest climate-solutions providers in Europe, which enables them to better serve a larger customer base through increased innovation and combined product, R&D and sector knowledge. Due to the two companies its complementary product offering and overarching geographical presence, NIBE obtains multiple additional opportunities to enter new geographies that fit well with CFL's product suite while strengthening its position in segments where it is currently underrepresented and fortifying its position in the Benelux.
What is the impact of this deal for the company?
Since 2000, CFL has been focused on making homes more sustainable with innovative climate solutions. The company has in the last grown into in the main Dutch supplier of heat pumps, ventilation and hot water tools. The growth that has been achieved is partly due to the significant investment plan that was successfully implemented together with Parcom. The acquisition by NIBE marks a new era, as the company was convinced it was the right time to join forces with a strategic partner to be ready for another long-term growth spurt.
Also, with taking into account the desire of the CEO and CFO to leave the company after the acquisition, in NIBE, CFL has found a partner that fits in terms of sustainable DNA, corporate culture and long-term strategy that ensures a stable and sustainable future for the company. This new era will certainly be a change for the company and its employees, as it means that the CEO and CFO will leave after such a long stint – nevertheless, both have expressed their happiness and confidence in NIBE as its new parent combined with the team that will take over their roles as the new CEO and CFO who have also been with the company for a long time.
What is the impact of this deal for the direct stakeholders?
Management CFL: After being involved within the company for respectively 15+ and 10+ years and a desire to exit the company after the transaction, both the CEO and CFO have expressed their feeling that for them, the acquisition by NIBE was the perfect outcome of the M&A process. Due to the personal approach of both the CEO and CFO of NIBE, management of CFL was deeply impressed and they stated that this was one of the reasons that convinced them NIBE was the desired new parent of the company. Employees: For the employees of CFL this transactions means first of all that they can continue to operate as they do now, as NIBE expressed their desire to "not change a winning team"; they stated that they feel CFL operates very well and want the acquisition to disturb as less as possible, except for eventually organizationally consolidating the business into NIBE's Climate Solution's segment. This, combined with the good reputation of NIBE and the expressed preference of CFL management for NIBE as acquirer, was also one of the key reasons that the employee's representative council gave green light for the acquisition without flagging any potential issues.
Parcom & Smile Invest: Parcom and Smile Invest have been able to make a very good return, as they acquired Climate for Life from GIMV at the beginning of 2021 and saw the company make a very strong growth trajectory between acquisition and ultimate sale. Besides, Parcom stressed that since they had such a strong and valuable relationship with the management of CFL, besides price, the continuity of the company and a good new home for the employees was on of the key considerations in choosing a preferred buyer. Since with this acquisition both their key goals (price and continuity) where achieved, Parcom stressed that they were extremely happy with the outcome. NIBE: NIBE had been looking into Climate for Life to strengthen its presence in the Benelux and adjacent geographies and add it's products focused on relatively smaller homes to its product suite for years.
They have also participated in an earlier process and initiated the current process by a love letter. NIBE saw CFL as a key opportunity to be able to enter new markets and better serve markets where they were currently underrepresented and have thus been extremely happy with the outcome in acquiring CFL. Also, the owners of Climate for Life have reacted favorably to the transaction, with the share pricing increasing significantly after the announcement of the envisaged transaction.
What is the impact of this deal on society?
This deal is another step in making our homes more sustainable and subsequently another important move forward in the energy transition. CFL was already driven by ambitions in energy-neutral living, and this is expected to be accelerated even more under the wings of NIBE. NIBE is known for its energy-efficient products and its success is based on long-term investments in sustainable product development and strategic acquisitions. Due to this acquisition, it is ensured that the strong brand names and associated Dutch heritage that fall under CFL are preserved, while the combination of the two companies and its overarching product suite will be able to better service Dutch and Belgian households and subsequently further accelerate the path towards an energy-neutral society.
What was most complex about this deal?
The most complex part of this transaction was a combination of the squeezed timelines combined with the fact that there was a very competitive audience in the process. In relation to that, it is always very difficult on the buyside to make the right decisions in terms of valuation and non-financial covenants. Ultimately, we were able to agree on a certain price in combination with a very high level of deal certainty

Stemmen is niet meer mogelijk