M&A Awards 2023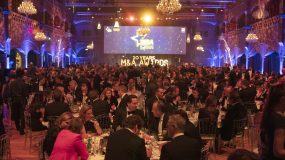 Beurs van Berlage, Amsterdam
It's that time of the year again; time for the M&A Awards!
A moment to take a break from your hectic life as a dealmaker and to reflect with your peers and colleagues on the past twelve months. What have been the highlights? Which deals collapsed? And who will be the stars of the M&A show this year?
You will be surrounded by 1000 top-level dealmakers who all have had their successes and failures. This is the night to share, remember and of course, celebrate together. Some dealmakers will pay little attention to what's on their dinner plate during the show, because they are in the race for one of the M&A Awards that will be presented.
Professionals simply cannot afford to miss out
Over 800 experts in the field of M&A cast their votes to determine this year's winners. Only the best professionals, firms and transactions will take home an award. Having said that, you, winner or not, play an essential role in the world of mergers and acquisitions. It's you, who shapes the future of our corporate landscape. The M&A Awards are here to honour the transactions and the hard-working professionals who made them happen.
The M&A Community Team is proud that 1000 professionals from the business sector, private equity, investment banking, corporate finance, consultancy and the legal profession come together each year during the M&A Awards.
Join the M&A Awards
Reserve your table for the M&A Awards gala dinner and join with your team and invite relations (8 seats). Don't wait too long. The number of dinner tables is limited. The awards will start at 5.00 PM with the champagne reception, followed by the luxury dinner with entertainment and plenty of networking opportunities with over 1000 M&A rainmakers. The investment for a table is Euro 6750,-. This includes 8 dinner guests and 4 guests for the afterparty starting at 21.30. Don't miss out and reserve your table(s) now here.
For more information or to reserve a dinner table visit MAawards.nl or contact Jurriën Morsch via [email protected].
Program
17.00 Champagne Reception
19.00 Start Dinner
M&A Awards – First round 
1. Best Deal
2. Best ECM Deal
3. Best Deal Mid-Market
4. Best Dutch M&A Law Boutique
5. Best M&A Law Firm
6. Best M&A House
7. Best deal Under Dutch-Law
M&A Awards – Second round
1. Best Acquisition Finance Provider
2. Best Venture & Growth Capital Provider
3. Best Hands-On Investment Firm
4. Best Family Office
5. Best Private Equity House Lower Mid-Market
6. Best Private Equity House Mid-Market
7. Best Private Equity House
M&A Awards – Third round
1. Best M&A Advisor
2. Best M&A Advisor Mid-Market
3. Best Debt Advisor
4. Best Transaction Services Advisor
5. Best M&A Tax Advisor
6. Best M&A Lawyer Mid-Market
7. Best M&A Lawyer
21.30 Welcome Party Guests & Start Party
22.45 M&A Awards – Fourth round
1. Best Small Cap Deal
2. Best Young M&A Advisor
3. Best Young M&A Lawyer
23.00 Main act: 
01.00 End