Vakjury selecteert 13 genomineerden M&A Awards België 2019
Laatst bijgewerkt: 20 juli 2023 11:27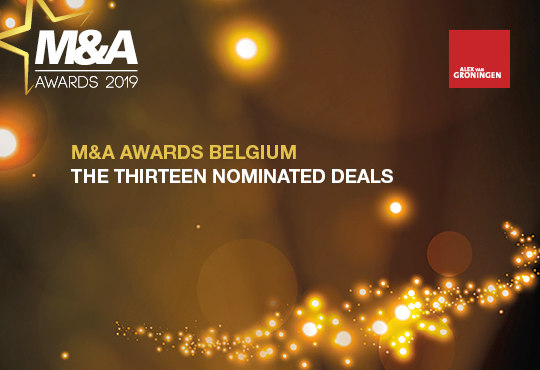 Deze week is de zeskoppige vakjury in Brussel bijeengekomen om de genomineerden voor de vijf M&A Awards te bepalen. In een vergaderzaal, vernoemd naar chansonnier Jacques Brel, van de Federale Participatie- en Investeringmaatschappij, bogen de Captains of Industry en M&A-experts zich over de tientallen deals die waren ingestuurd en geselecteerd door de Belgische M&A Community en de M&A-redactie. 
De jury concludeert dat het een goed dealjaar is geweest in België en dat de dealkwaliteit over de gehele breedte iets hoger ligt dan vorig jaar. Dit gaf dan ook genoeg stof tot intense discussies om tot twee (venture capital awards) of drie genomineerden per categorie te komen. Het aantal award-categorieën is dit jaar vergroot van twee tot vijf. De jury is van mening dat de inspanningen die private equity en venture capital leveren aan de ontwikkeling van beloftevolle Belgische bedrijven positieve aandacht verdienen. Daarom worden er voor het eerst awards uitgereikt voor de beste deals op het vlak van PE Growth Capital en Best Venture Capital. De laatste categorie is gesplitst in IC & Technology en Life Sciences, twee sectoren waarin België volgens de jury in excelleert.
De onderstaande deals zijn genomineerd voor de M&A Awards 2019. De details van deze deze unieke deals staan in de M&A Database. De winnaars worden op donderdag 28 november bekendgemaakt tijdens de awardshow in Hôtel de la Poste in Brussel waar meer dan 350 gasten in black-tie worden verwacht.
>> Bezoek MA-Awards.be voor meer informatie over de genomineerde deals en beschikbaarheid van dinertafels of tickets.
>> Bekijk alle genomineerde deals ook op MAAwards.be/en/nominees/
Pitches en jury commentaar
Genomineerden Best Large-Cap corporate deal 2019
1. Daikin acquires AHT Group.
2. Domo Chemicals acquires Solvay's Performance Polyamides Business in Europe.
3. Gilead and Galapagos enter into transformative research and development collaboration.
Genomineerden Best Mid-Cap corporate deal 2019
1. Johnson & Johnson acquires stake in ArgenX.
2. Kinepolis Group acquired US Movie theatre chain MJR Digital Cinemas.
3. Mediahuis acquires Independent News & Media.
Genomineerden Best PE Growth Capital deal 2019
1. Ardian Acquires Inula From Vendis Capital.
2. GBfoods acquires Continental Foods.
3. HG Capital acquires the Combell Group.
Genomineerden Best Venture Capital Deal – IC-Technology 2019
1. Battery Ventures acquires majority stake in Guardsquare.
2. CapitalG leads €110 million funding round in Collibra.
Genomineerden Best PE Venture Capital – Life Sciences 2019
1. Confo Therapeutics raises €30 million in Series A Investment Round.
2. EyeD raises €28 million in investment round.
Deze zeskoppige vakjury heeft de genomineerden bepaald:
– Urbain Vandeurzen, Chairman Panel of Judges, co-founder Smile Invest and former CEO LMS & honorary chairman Voka
– Renaat Berckmoes, Partner Fortino Capital
– Pierre Demaerel, Secretary General Belgian Venture Capital & Private Equity Association
– Philippe Haspeslagh, Honorary dean Vlerick Business School en Chairman bij Ardo en Capricorn Venture Partners
– Michaël Sephiha, Journalist at Mediafin / De Tijd
– Eric van Zele, vml. CEO Barco en winaar of the 'Manager of the Year 2012 award' in België.
Bekijk de biografieën van de jury hier.