Pitch PE Growth Deal M&A Awards Belgium 2019: HG Capital – The Combell Group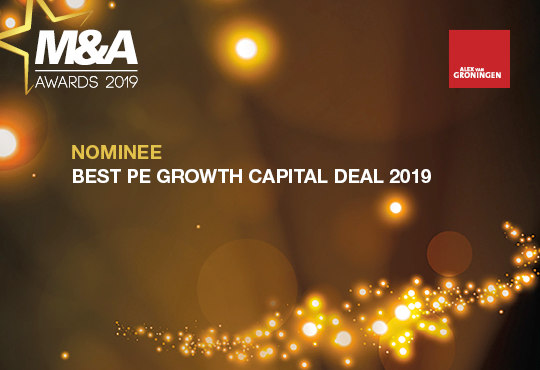 The Belgium Panel of Judges of the M&A Awards have nominated this deal for the M&A Award 'Best PE Growth Deal 2019'. This pitch was submitted by Allen & Overy, Linklaters and Deloitte.
Name of the deal: HG Capital acquires the Combell Group from Waterland Private Equity Investments
Date closed: 21st of December 2018
Published value: €700 million
Buyer: HG Capital
Target: Combell Group
Seller: Waterland Private Equity Investments
M&A Database: https://mena.nl/deal/9581
Visit MA-Awards.be for more information and availability of dinner tables or tickets.
Involved firms and advisors sell side:
M&A: Raymond James
Legal: Allen & Overy, Plesner
FDD: EY
CDD: EY Parthenon
Involved firms and advisors buy side:
M&A: Harris Williams & Co.
Legal: Linklaters, Accura
FDD: Deloitte
CDD: EY, OC&C
Pitch
Brief description deal / Deal outline:
HgCapital announced the acquisition of Combell Group from Waterland at the end of 2018. Combell is the #1 mass hosting player in Denmark and Belgium and has growing positions in the Netherlands, Sweden and Switzerland with core products such as web hosting, domains, e-commerce and application solutions. With over 800,000 SME and SoHo customers Combell is a one-stop partner for web hosting, domains, e-commerce and application solutions. Combell had consistently delivered strong organic revenue growth, best-in-class customer satisfaction metrics and an exceptional M&A track record under the ownership of Waterland. With the backing of HgCapital Combell embarked on new growth trajectory. The company had the opportunity in 2019 to merge with TransIP, a NL-based mass hosting and VPN provider offering domain name registration, hosting, and Virtual Private Server ("VPS") services. TransIP offers managed and unmanaged internet services. The credo of TransIP Group is to 'Make Advanced Simple', which it does for more than 400,000 customers so that they can excel in their digital capabilities. Upon the acquisition of TransIP, Combell Group and TransIP Group rebranded and created team.blue, which became another European tech companies to exceed a $1 billion valuation. The team.blue brands offer digital tools such as hosting, email and applications to over 1.2 million customers across Europe, with a base of over 600 employees working in expert teams. The combined company created a new powerhouse in European tech, with a vision to create reliable, best-in-class tools and products to better enable companies and entrepreneurs to grow their businesses digitally. Founders Ali Niknam (TransIP) and Jonas Dhaenens (Combell) recognise and applaud the high level of innovation and customer satisfaction that both companies bring to the sector. They joined forces to create a framework for one of the biggest founder led hosting groups, a new, visionary tech group, which also aims to further consolidate the market and have other entrepreneurs join team.blue. Subsequently in September 2019 team.blue acquired Register Group creating a company that generated €275 million of revenue, strengthening its leading position as an independent tech powerhouse across Europe. Together with Register Group, it will combine scale and experience to bring an even higher level of innovation to better serve over two million SME customers in over ten countries, with a support base of over 1,000 employees across Europe, providing solutions across domains, hosting, email, VPS and applications.
Deal rationale:
HgCapital acquired Combell with clear buy-and-build strategy and serve as a platform to make further transformational acquisitions to become the leader in mass hosting services across Europe. In team.blue, HgCapital is supporting the creation of a true – founder led – European champion in digital services for professionals. Combell was founded in 1999 by Jonas Dhaenens and has, since the acquisition by Waterland in 2015, grown from a local player to a leading web hosting company in the Benelux and Denmark (generating approx. EUR 100 million turnover and 48% gross EBITDA margin at the time of the exit by Waterland).The exit enabled Waterland to sell its stake and capitalise on its investment, while at the same time allowing founder Jonas Dhaenens to roll over his shares alongside new investor Hg.
What is the impact of this deal for the company?
HgCapital has a history of creating industry champions by scaling platforms internationally, whilst also helping to build businesses through transformational M&A, backing entrepreneurs and reinforcing organic growth through sector experience and operational support. In this spirit the acquisition of Combell by HgCapital was the first step in creating a true industry champion. The merger of Combell with TransIP and the creation of team.blue represented the first transformational acquisition and provided Combell with a Dutch platform to complete additional M&A – the Dutch sector is one of the most fragmented in Europe – and increased the Group's VPS capabilities (i.e. premium hosting in Combell), a fast growing adjacency to mass hosting. team.blue then acquired Register Group, which is a highly complementary business to team.blue providing exposure to fast growing and less digitally enabled markets as well as the opportunity to cross-sell into a base of around 900k customers. The combined group can now provide digital solutions to close to 2 million customers across 11 geographies in Europe.
What is the impact of this deal for the direct stakeholders?
The competitiveness of the auction process with multiple interested bidders allowed reconciling Waterland's desire to exit at a high value with Jonas Dhaenens' and management's wish to reinvest and continue to be part of the growing business.The founder of Combell Jonas Dhaenens has been appointed CEO of the combined Team.Blue group.
The acquisition of Combell as a platform and subsequent transformative acquisitions of TransIP and Register Group to create team.blue created a host of synergies, a sharing of operational best practice (product sharing, delivery), balanced exposure across European markets, unrivalled M&A reach and pipeline, and a Pan-European leading provider for SMEs with local expertise.• Within team.blue the entrepreneurs, along with the experience of a strategic backer in Hg, have brought together capabilities that will create innovative solutions for customers, whilst also being a dynamic and exciting place to be for our many employees across Europe.
What is the impact of this deal on the society?
The combined group now provides digital solutions to close to 2 million SME customers across 11 geographies in Europe. This series of transactions is the continuation of the inspiring story of how founder-entrepreneurs like Jonas Dhaenens and Ali Niknam with the assistance of a strategic PE investor like HgCapital can create European sector champion and reach unicorn status.
Why does this deal deserve a nomination?
The submission of M&A deal of the year follows the path of three major (to Belgian standards) unprecedented transactions in 2019:
1. It all starts-off with the sale of Combell from Waterland to HgCapital;
2. Subsequently, the merger between TransIP and Combell, rebranding the business to team.blue and making it to the second Belgian company to reach the Unicorn label. and;
3. The follow-on acquisition of its Italian competitor, Register Group;
After an incredible Buy-and-Build run by Combell's CEO-Founder (Jonas Dhaenens) under the ownership of Waterland, executing over 40 acquisitions across Europe over the last couple of years, HgCapital acquired Combell from Waterland in December 2018. Shortly after, the combination of Combell and TransIP became a reality and the group re-branded to become team.blue (whilst maintaining respective brands across platforms). This merger made team.blue the second company to reach a unicorn status in Belgium after Collibra just managed to beat them for this milestone by a couple of months. Hunger settled? Appetite gone? A simple answer: no. Early September, team.blue acquired Register Group, its equally sized Italian competitor, increasing revenues from EUR 170m towards a staggering EUR 275m and Jonas Dhaenens cited in De Tijd: "This is incredible, the company tripled its size after the merger and the Italian jumbo transaction. But we plan to keep on growing" [translated]. team.blue is now the largest provider of mass hosting services in Europe.
Comments Panel of Judges
In recent years, Combell has created a leading position in the Danish and Belgian markets through dozens of acquisitions. The Panel of Judges is impressed by the way in which this buy-and-build strategy has been shaped. After a strong local position had been acquired under the founder, Waterland took the step across the border. Under HgCapital, the pace of the buy-and-build machine is further increased, while founder Jonas Dhaenens is still involved in the company. The Panel of Judges is impressed by the timing and thoroughness of all the acquisitions. For example, there seems to have never been too much paid for an acquisition. Combell is a prototype of a situation where entrepreneurship and private equity reinforce each other.