Pitch Best Young M&A Lawyer 2022: Maxim Terweij, Norbruis Clement Advocaten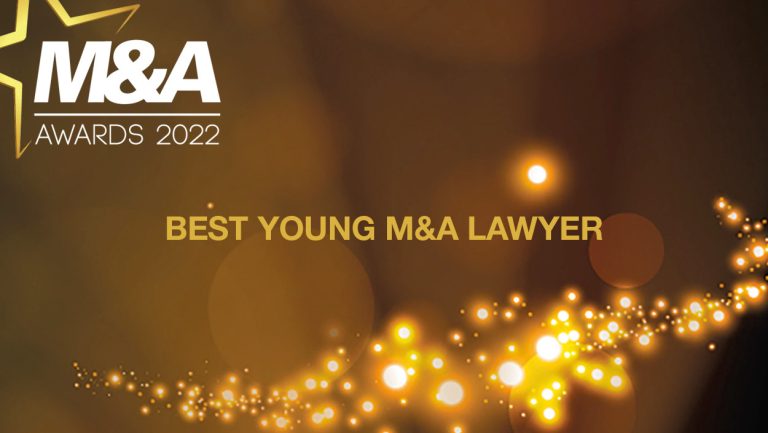 Maxim Terweij maakt dit jaar kans op de M&A Award voor Best Young M&A Lawyer 2022.
Company: Norbruis Clement Advocaten
Job Description: Lawyer
Age: 29

What are the specialties of this talent?
Public and private M&A, governance, private equity, venture capital, corporates, start/scale-ups

How does the talent distinguish itself from its peers?
I (Richard Norbruis) met Maxim in the Spring of 2021 when Maxim just became an associate at Stibbe. At that time my partner Thijs Clement and I were looking for one or two ambitious, entrepreneurial and excellent lawyers that were willing to dive into the deep by joining us. In that respect we had multiple conversations with both Niels Douma, the newest partner at our firm, and Maxim. It was immediately clear to me that Maxim is an ambitious and excellent lawyer. I was genuinely impressed by his legal knowledge, drive, social skills and entrepreneurial mindset. Thijs and I just started our practice and we were not able to provide any guarantee with respect to any business or the success of our firm. Hence, being 'merely' excellent and ambitious would not be sufficient. Maxim, however, clearly was very much triggered by a challenge of this nature. He left the safe haven Stibbe provided to him at that time to join us in this adventure. In my view, it is a 'condicio sine qua non' that a 'Best Young M&A Laywer' is ambitious and excellent. An entrepreneurial mindset and the right social skills, however, really make a nominee the 'Best Young M&A Lawyer'. I truly believe that Maxim possesses and already uses these skills with his relatively 'limited' years as an M&A lawyer. In doing so, Maxim seriously distinguishes himself from its peers.
What impact does the talent have within the organization?
Maxim joined us on the basis of an entrepreneurial scheme, meaning that Maxim is also responsible for generating business for our boutique firm. By means of intensive guidance, we enable Maxim to further develop this skill and talent at a relative early stage in his career. Since joining us in August 2021, Maxim has already been able to bind several new and very interesting clients to our firm, and he also played an important role in strengthening the relationships with already existing clients. Maxim is the main point of contact for many other firms we work with on transactions and maintains such relationships carefully. Maxim is a connector and always ensures the entire deal team moves in the same direction. Given the fact that we are a boutique firm with only four lawyers, Maxim also takes responsibility for any non-legal matters that may arise, such as our branding, marketing, recruitment and any communications with other organizations such as your M&A Community. As such, Maxim is an indispensable link within our firm both from a legal and non-legal perspective.
What impact does the talent have outside the organization?
Maxim not only uses his legal knowledge and experience as a lawyer for the benefit of corporate clients, but also puts his knowledge to work for charitable purposes. At the start of the Ukrainian war we provided support to Stichting People for People, a foundation established by tech entrepreneurs Ali Niknam, Joris Beckers and Robert Vis. From then on Maxim is involved with the foundation on an ongoing and pro bono basis. In addition, Maxim advises Oma's Soep – a company that fights loneliness amongst elderly by selling fresh soups and ready-meals and using half of the profits gained to organize activities for lonely elderly – both on a pro bono and reduced fee basis on any legal issues that may arise. Also, Maxim advises early-stage start-ups on a pro bono basis on their governance, investment structure and any other questions founders may have to ensure that such start-ups do not make any mistakes early in the game that may have a substantial adverse impact in the future.

To what extent does the talent make the difference to clients?
Maxim always goes the extra mile for his clients. Work life balance is important, but in our profession it is eventually essential to always be there for a client in need. Maxim truly understands this and puts this into practice. Clients value Maxim for his deep legal knowledge, personal approach, pleasant collaboration and commercial understanding. Maxim keeps the interest of his clients in mind at all times while ensuring he also gets the deal through. Maxim understands what the 'must and nice to haves' are in a particular transaction and is able to advice his clients accordingly on the basis of the relevant transaction's dynamics and structure. Maxim does not shy away from contradicting his clients in the event such contradicting ultimately is in the best interest of the client. The combination of these elements ensures that existing clients return to our firm for Maxim and new clients wish to work with him on their next project.
Why does the talent deserve this nomination?
Maxim is a corporate lawyer with profound knowledge of the law and the M&A market. He truly is a legal dealmaker. Maxim advises corporates, private equity and venture capital firms and start/scale-ups on a wide range of transactions. He is empathetic and understands the interests of all parties involved in a transaction. Maxim uses these skills for the benefit of its clients and in doing so he truly stands out from his peers. I have been an M&A lawyer for almost 40 years. Having been a partner at NautaDutilh, a founding partner of Freshfields Bruckhaus Deringer in the Netherlands, a partner at EY Law and a member of the core leadership teams of each of Freshfields and EY Law, I think it is safe to say that I have gained the relevant experience to assess whether a lawyer deserves to be nominated as Best Young M&A Lawyer. Maxim truly is one of the most talented young lawyers in M&A that I have worked with and I am of the opinion that such talent should be recognized by means of a nomination as 'Best Young M&A Lawyer'. As such, I genuinely hope and humbly ask your jury to nominate Maxim as 'Best Young M&A Lawyer' so that his talent is recognized and he has the chance to further prove himself in this year's contest.
Any references or recommendations from clients or (colleagues)?
Gerjan de Lange – CEO Brand New Day
Han Kolff – former CEO of the HeadFirst Group and current chairman of the board of the HeadFirst Group
Marion van Happen – current CEO of the HeadFirst Group
Tanya Kramer – former Head of M&A KPN, currently Venture Capital Investor at Slingshot
Pieter Jan Van Krevel – Stichting People for People
Martijn Canters – Co-founder and CCO Oma's Soep
Niels Douma – Partner Norbruis Clement Advocaten
Thijs Clement – Partner Norbruis Clement Advocaten