Pitch Best Young M&A Lawyer 2022: Dirk Berendsen, Clifford Chance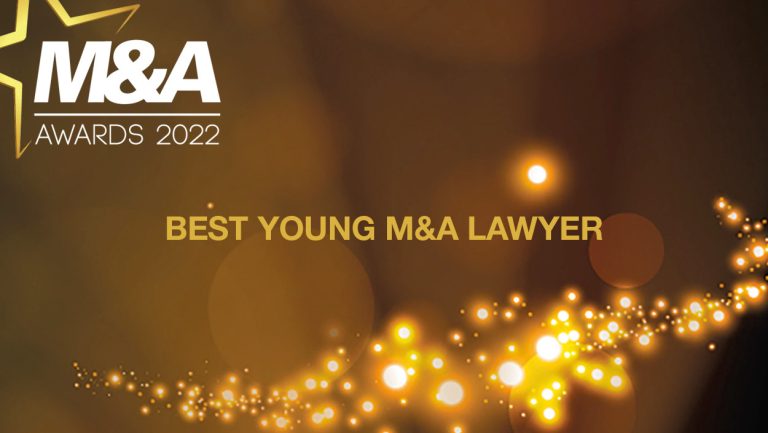 Dirk Berendsen maakt dit jaar kans op de M&A Award voor Best Young M&A Lawyer 2022.
Company: Clifford Chance
Job Description: Senior Associate
Age: 34

What are the specialties of this talent?
Dirk is a highly talented and valued Senior Associate in the Amsterdam Corporate M&A practice of Clifford Chance and specializes in private mergers & acquisitions, joint ventures and corporate advisory work. He advises international and domestic private equity houses, financial sponsors and corporates on a wide range of matters, including leveraged buyouts, acquisitions and disposals, takeovers, mergers and joint ventures.
Dirk's excellence as an M&A lawyer is exemplified by the high-profile transactions he has recently worked on:
a consortium led by KKR and also consisting of Teslin on the public offer for all of the issued and outstanding ordinary shares in Accell Group
ACT Commodities in relation to a minority investment from Bridgepoint, moving ACT to a new level of leadership in the environmental markets, valuing the company at more than EUR 1 billion
KKR & Co. Inc. and Roompot on the acquisition of Landal GreenParks from Awaze, a portfolio company of Platinum Equity
KKR & Co Inc. and DTCP on the launch of Open Dutch Fiber and a strategic agreement between Open Dutch Fiber and T-Mobile Netherlands
IK Partners on the acquisition of Infradata from Waterland
KKR & Co. Inc. on the acquisition of Roompot Group from PAI Partners
Air France-KLM, Air France and KLM in relation to the conclusion of definitive agreements regarding a new transatlantic joint venture with Delta Airlines and Virgin Atlantic Airways as well as the acquisition of Air France-KLM of a 31% interest Virgin Atlantic Airways
Pon Tyre Group B.V. on the disposal of a leading aftermarket distributor of tires, rims, completely fitted wheels and related services to car dealerships and wholesalers in Germany as well as wheel assembly services to blue-chip car OEMs in Europe
Rivean Capital on the acquisition of a share in ZND Holding B.V., a Dutch company, which has grown to become Europe's largest manufacturer of temporary fencing and pedestrian barriers
How does the talent distinguish itself from its peers?
Dirk is an inspiring role model who seamlessly combines his role as a father of young twin boys with the demanding, fast-paced world of international private equity and M&A.
He always thinks two steps ahead of the game and has the strong ability to solve complex legal issues in a commercial and pragmatic manner. His approach is result orientated and always puts the client's interest first whilst leading the team in a calm, friendly and pragmatic manner. Dirk's teamwork is further characterized by the strong conviction that working together, solving complex legal issues jointly and agreeing on an action plan together as a team is more fun, creates a sense of ownership for juniors and contributes to achieving the best result for our clients.
What impact does the talent have within the organization?
Dirk is a 'home-grown' Clifford Chance lawyer. He began his career as an intern in 2013 and has since then developed into a true role model whose positive impact is far-reaching within the office. According to the team, Dirk is fair, engaged, polite, assertive, and enthusiastic. He truly believes in the importance of being available for his team, not only on a professional level, but also personally. Dirk is a great listener, makes team members feel at ease and has strong people management skills.
Dirk is known for his coaching and educational skills. Even under high pressure Dirk takes ample time to guide and teach juniors.
Dirk really likes to be involved in the day-to-day business of the firm as well as its so cherished culture. This is, amongst others, exemplified by his contribution as a member of the Clifford Chance Amsterdam Works Council between 2014 and 2021, and his active role in guiding and hosting students during the Clifford Chance Select Class. The Select Class is the firm's annual flagship recruitment initiative, which took place this year in our Amsterdam and Paris offices. Dirk was one of the coaches accompanying and guiding 24 law students during this intensive 3-day business course.
Furthermore, as an approved peer-to-peer coaching facilitator (Intervisie Gespreksleider), Dirk will supervise and host mandatory bar coaching sessions within the office with the aim to discuss business and non-business related dilemma's.
What impact does the talent have outside the organization?
Dirk has been actively involved with Stichting Best Buddies, the Dutch division of a global volunteer movement that creates opportunities for one-to-one friendships with young people with intellectual and developmental challenges.
During his time at the Clifford Chance global financial markets team, Dirk has been seconded to the wholesale banking team of ING Bank N.V. This experience really helped him to further expand his knowledge of the finance practice, which in his current role is still of much added value.
On a more personal note, Dirk has a broad social network, likes to be around friends and is known for always being on the hunt for arts and antiques.
To what extent does the talent make the difference to clients?
Dirk strives to be part of a clients' go-to team, to expand client relationships and to fully grasp a client's strategy, all with the aim to deliver on point, commercial and consistent legal advice. As a result, Dirk is often involved on complex cross-border transactions involving strategically important clients to ensure the work is done in line with that particular client's standards and expectations.
Why does the talent deserve this nomination?
Dirk deserves to be recognised as Best Young M&A Lawyer, not only because of his leading role in some of the most high-profile transactions on the Dutch market in recent years, but also because of his exceptional personal and professional qualities. The way Dirk combines commercial acumen with a truly collaborative approach – both internally and with the client's team – creates a sought-after skillset that makes Dirk an invaluable asset for our most complex M&A work. Beyond being a great M&A lawyer, Dirk is a great mentor for our junior colleagues, and he contributes to creating a collegial and positive work culture.
Any references or recommendations from clients or (colleagues)?
The way in which Dirk adds value is illustrated by the comments received from several of his long-standing clients:
Sjoerd Smaal from KKR, says: "Dirk is een genot om mee te werken, bij al onze overnames (Roompot, Landal, Accell) in Nederland is hij dicht betrokken geweest en zijn advies en kunde zijn van de allerhoogste kwaliteit."
Haye Strikwerda, general counsel of ACT, comments: "Dirk offers high-end corporate advice in a down to earth manner bringing down complicated matters to pragmatic solutions, ready to implement."
Richard Louwers, CFO of SEG comments: "I have worked with Dirk for many years and I always appreciate his pragmatic and commercial view. He is a hands-on lawyer that really makes the difference."