Pitch Best Young M&A Advisor 2022: Sander Kramer, William Blair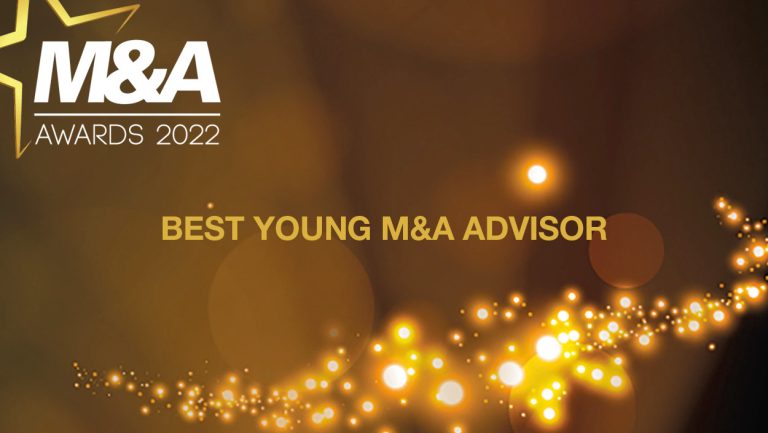 Sander Kramer maakt dit jaar kans op de M&A Award voor Best Young M&A Advisor 2022.
Company: William Blair
Job Description: Vice President Investment Banking
Age: 31
What are the specialties of this talent?
Sander Kramer is an excellent dealmaker, bringing energy, optimism, and insight to dozens of deals over his seven years at William Blair. An incredibly experienced M&A banker relative to his tenure, Sander has been involved in more than 20 transactions representing more than €5.5bn in M&A deal value during his tenure at William Blair.
Beyond his excellence in M&A execution, Sander's true speciality is building and developing strong teams. Playing for the Belgian National U18 Field Hockey Team, Sander won the European championships and got a taste for working with high-performing teams. He has brought this energy, focus, and team spirit to William Blair's European Services and Industrials team. At William Blair, Sander specializes in originating and executing cross-border transactions, with a particular focus on businesses headquartered in the Benelux.
Sander's flair for finding and developing talent has helped to grow William Blair's European team from c.45 professionals to c.145 since he joined as an intern seven years ago. He recently relocated from London to Amsterdam to help build William Blair's Amsterdam office. Senior leadership chose Sander for this role due to his compelling skillset across deal-making, team-building, and his general hardworking and optimistic nature.

How does the talent distinguish itself from its peers?
Colleagues are most impacted by Sander's team spirit and focus on nurturing talent to reach their full potential. Sander is a very experienced young banker and has been part of the team that delivered 150% growth in European M&A revenue in the last fiscal year. Sander's impressive track record of deals includes the following:
Sale of Foodmate, a leading poultry processing company based in the Netherlands, to Duravant, a portfolio company of Warburg Pincus
Sale of Intreso, a provider of specialised pest control treatment services with operations across Belgium, the Netherlands, and Slovenia, to Draslovka
Sale of Motorcycle Storehouse, a leading European player in niche custom motorcycle aftermarket parts and lifestyle products based in the Netherlands, to Powersport Distribution Group, a portfolio company of Torqx Capital Partners
In addition to his excellence in M&A execution, Sander distinguishes himself from his peers by playing a leadership role in William Blair's team building and recruitment efforts, as further detailed below.
What impact does the talent have within the organization?
Sander joined William Blair as an intern in 2015, and in the years since has been an integral part of the firm's geographic expansion in Europe as well as the development of the team. His most recent step has been to help establish our Amsterdam office as one of the office's first three employees—a role he was hand-chosen for by William Blair's senior leadership.
He has played a key role as the European team grew from two offices to six and as team headcount grew fourfold thanks in no small part to his talent for recognising, developing, and retaining talent.
His gift for identifying young talent led him to help develop William Blair's internship program in Europe, which resulted in hiring and training over 17 analysts.
What impact does the talent have outside the organization?
Sander's positive impact is not limited to William Blair and its clients. In fact, he has been involved with a number of philanthropic initiatives, including WrapUp London, which collects, sorts, and distributes coats to help London's homeless population stay warm through the winter.
He also takes a key role in driving social activities within William Blair to build internal relationships and strengthen our culture. He leads a team in the William Blair weekly football tournament, which provides an opportunity for colleagues across all levels of the organisation, from interns to partners, to interact socially.

To what extent does the talent make the difference to clients?
Sander's recent promotion to Vice President, not to mention his selection to be one of the first three members of our Amsterdam team, is in recognition of his broad experience and deep engagement skills. He is erudite, personable, and tenacious and is utterly committed to securing the best outcomes for our clients.
One example of this is Sander's work on the sale of the Netherlands-based poultry processing group Foodmate to Duravant, a highly targeted outreach process to find the right strategic acquirer. The process generated significant interest that led to multiple fully financed, competitive proposals. Ultimately, the team found an acquirer that shared Foodmate's vision for the future of the combined business. This deal would not have been possible without Sander, who was responsible for ensuring that the deal was executed smoothly with the deal team located in the United States, United Kingdom, the Netherlands, and Germany and ultimately delivered a deal that was a great outcome for all parties.

Why does the talent deserve this nomination?
Sander's rise through William Blair's M&A advisory team has been swift, progressing every year and earning a promotion to Vice President in January of 2022. This reflects his energy, intellect, and the contribution he has made to the team since his beginnings as an intern at William Blair in 2015.
Sander's progression has been impressive, but more impressive has been his commitment to helping others progress at all levels throughout the organisation. In helping to establish the internship program for our London office, he has been responsible for giving junior colleagues the best possible start to their career. He continues this commitment as they progress by actively participating in our mentorship program. Having been a key part of the success of our London team over the past seven years, Sander is further building on his achievements through his work in growing our Amsterdam team. This has already led to an array of highly lucrative deals for our clients and no doubt there will be many more in the future.
Finally, we wanted to end with some words about Sander from an associate on our team who joined as an intern and has worked with Sander for their whole career: "Since the first day I joined William Blair, it has been a real pleasure to work with Sander. He is very knowledgeable about technical matters, process dynamics, the preparation of marketing materials, and more. But more importantly, he is a great mentor. He ensures junior team members are given the opportunity to step up and take ownership while also knowing we can always rely on his guidance if we need it."

Any references or recommendations from clients or (colleagues)?
n.a.