Pitch Best Small Cap Deal 2021: Revalize – Sofon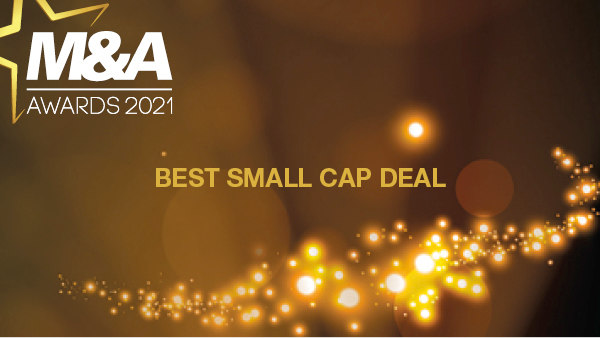 De genomineerde deals maken dit jaar kans op de M&A Award voor Best Small Cap Deal 2021.
Bekijk alle pitches & stem direct
| | |
| --- | --- |
| Name of the deal | Revalize, backed by TA Associates, acquires Sofon from Main Capital Partners |
| Date | 5 October 2021 |
| Published value | € 5 – 50 million |
| Buyer(s) | Revalize (TA Associates)  |
| Target | Sofon |
| Seller | Main Capital |
Involved firms and advisors  
Involved firms and advisors buy side: 
DLA Piper (Legal Advisory Corporate M&A), Deloitte (Financial Due Diligence), TA Associates (Private equity management)
Involved firms and advisors target: 
Corporate Finance International (M&A advisory), Deloitte (Financial Due Diligence), HSA Lawyers (Legal Advisory Corporate M&A) 
Involved firms and advisors sell side: 
Corporate Finance International (M&A advisory), Deloitte (Financial Due Diligence), HSA Lawyers (Legal Advisory Corporate M&A) 
 Pitch 
Brief description deal / Deal outline 
Revalize, the US-headquartered and worldwide leader in sector-specific revenue operations software for manufacturers, acquired 100% of the shares in Sofon, a Netherlands- and Germany-based provider of Guided Selling and CPQ (Configure, Price, Quote) software, from Main Capital Partners and Sofon's founder. Sofon's software platform caters to companies with complex and customized products in engineered-to-order industries. Customers choose Sofon for quick and easy proposal generation, product configuration, pricing, quotation and order creation. The acquisition of Sofon marks the first expansion of Revalize's operation into continental Europe while adding more Fortune 100 businesses to the Revalize's growing list of world-class customers. Joining Revalize allows Sofon to scale and expand its leading product suite faster. Revalize is backed by TA Associates, a leading global growth private equity firm, which has raised $47.5 billion in capital since its founding. 
Why should this deal win the Award for Best Deal 2021? 
In terms of complexity, strategic outcome and deal structuring, the Revalize/Sofon transaction is likely to be unmatched by any other small-cap deal in 2021. It marks a full, clean and 100% exit for both Main Capital Partners and the founder of Sofon, Mr Paul Kimmel. It provides clear and obvious growth accelerators to Sofon due to the increased scale and scope in the new group, whilst adding very attractive, blue-chip logos to the combination's global installed base of over 9,000 customers. And ultimately, Revalize was only established after the completion 4 simultaneous deals, that of its European beachhead Sofon and of 3 transactions in the US, the negotiations of which took place quasi simultaneously. Travel restrictions across the Atlantic didn't hamper a mutual enthusiasm to get the deal done.   
Deal rationale: 
This transaction is strategically a great opportunity for both Revalize and Sofon. Revalize is committed to delivering the most comprehensive portfolio of enterprise-grade revenue operations solutions in the world. The addition of Sofon, with its access to blue-chip clients across continental Europe, is a crucial step in realizing this vision. Also, Sofon's low-code/no-code architecture and configurable user interfaces are best-in-class and unmatched by any other platform, enabling ease of deployment and use by sales-oriented teams. Sofon can benefit from increased sales and distribution in North America, where Sofon already started organically building a client base. 
What is the impact of this deal for the company? 
By joining Revalize, Sofon gets access to best of breed technology resources, capital, global sales and distribution. Its clients will have access to a growing portfolio of software solutions that now includes design applications, engineering simulations, product selection, CPQ, Product Information Management (PIM), visualization, and data analytics. All of these solutions share a single purpose — to realize more revenue by creating order, reducing friction, and making connections. All actors along the make-to-order manufacturing value chain will benefit from an elevated and streamlined experience that helps them drive their business forward. 
What is the impact of this deal for the direct stakeholders? 
The company was founded in 1998 by Mr Paul Kimmel. Main Capital Partners acquired Sofon in 2012. Over the past years, Sofon has established a strong position in the international CPQ market, with a specialized focus on the Benelux and DACH region. During the tenure of Main Capital Partners, the company also successfully transitioned from a traditional licensing to a SaaS company, whilst continuing investing in its platform and in add-on modules. The sale of Sofon ultimately marks a clean and strategic exit for Main Capital Partners, as well as for Sofon's founder, Mr Paul Kimmel, to an international trade buyer, supported by a world-class global growth private equity firm. 
What is the impact of this deal on society? 
In an uncertain world that is undergoing structural changes and challenges due to the COVID-19 pandemic, travel restrictions and hampered worldwide supply chains, the Revalize/Sofon transaction ensures, through digitisation, the continuation of more and better revenue operations with less friction throughout the chain, and secures global access to the most complex of make-to-order products much needed right now, such as medical respirators, datacentre components, and transport equipment. 
What was most complex about this deal? 
The discussion and negotiations between Main Capital Partners and TA Associates were part of a multifaceted process. TA Associates had developed a strong, strategic view on the CPQ market and had the ambition to establish a new platform for purpose-built software which should empower manufacturers to elevate buying experiences, accelerate sales cycles, and streamline production. Revalize did not exist yet and TA Associates engaged in simultaneous negotiations with suitable companies. Ultimately, Revalize was created 2021, following the quasi-simultaneous completion of the transactions with US-based companies AutoQuote, FPX and ConfigureOne, and Europe-based Sofon.