Pitch Best Mid-Market Deal 2019: OneFit – Urban Sports Club
Laatst gewijzigd: 20 juli 2023 11:27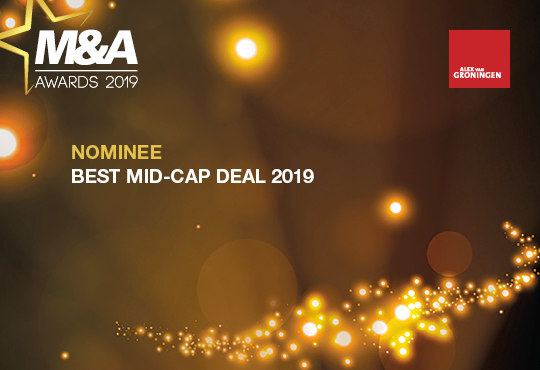 Deze deal is door de jury genomineerd en maakt kans op de M&A Award voor Best Deal Mid-Market 2019. Stem nu op uw favoriete deal.
De beste deal van het jaar is meer dan het hoogste cijfertje in de krant en de kunst van het dealmaken is meer dan het opstellen van een contract. De Awards voor de beste deal zou dus niet alleen op de prijs van de deal gebaseerd moeten zijn, maar vooral op de – toegevoegde – waarde voor een bedrijf en de exit.
Bekijk alle Best Deal Mid-Market pitches & stem direct
Name of the deal: Merger between OneFit and Urban Sports Club.
Date announced: 8th of August 2019
Published value: Between €100 million and €250 million
Buyer: Urban Sports Club
Target: OneFit Holding
Seller: INKEF Capital, Peak Capital
M&A Database: Bekijk de details van deze deal.
Involved firms and advisors sell side:
Legal: AKD – Francois Koppenol, Mirte van Veen.
Pöllath + Partners – Frank Thianer.
Involved firms and advisors target:
M&A: IMPROVED Corporate Finance / Drake Star Partners – Frank Verbeek, Sherief Rahim, Maarten Vrijhof.
Tax: Amstone Tax Lawyers – Wendela van Rijt.
Legal: INGEN HOUSZ – Matthijs Ingen-Housz.
HMK notarissen – Corrine Holdinga, Machteld Numan.
Involved firms and advisors buy side:
Tax: PwC – Eduard Schurink, Zoe Reijn, Pieter van Oort.
Legal: Lindenpartners – Tobias de Raet.
BrouwerLegal – Bastian Honerbom, Niko Oertel.
Pitch
Brief description deal / Deal outline:
Urban Sports Club, the leading German sports and fitness platform, has merged with OneFit, the leading Dutch sports and fitness platform. Both companies have a Tier-1 investor base with Partech Ventures, Holtzbrinck Ventures and Rocket Internet as shareholders of Urban Sports Club and INKEF Capital and Peak Capital as shareholders of OneFit. Following the merger, OneFit and Urban Sports Club will strengthen their European market position in the growing sector of sports and fitness marketplaces.
Deal rationale:
With a shared ambition of becoming the first European Sports technology Unicorn (with an EV > 1bn), OneFit and Urban Sports Club have merger successfully.By expanding into Europe separately from their home countries, the companies found in each other a strong future partner with matching cultures and business models, and complementary geographies.The sector of sports and work out marketplaces is growing rapidly and well-funded competitors from the US and Brazil are moving into Europe as well, all of which is changing the competitive dynamics in the market into a land grab and consolidation phase.By joining forces, the companies solidify their market leading position in Europe and are on a clear path to market leadership.
What is the impact of this deal for the company?
This deal is a true game-changer for the industry and company.The company gains significant value in terms of the access to capital with large financial shareholders, a European footprint in Netherlands, Germany, France, Italy, Nordics and Spain, and in scale growing from 80 to 400 FTE.
What is the impact of this deal on the society?
OneFit and Urban Sports Club are changing the way people work out and provide access to a platform of thousands of gyms, work out studio's, outdoor sport activities. The merger improves their offering, technology and European footprint, and hereby the companies will get more and more people working out.
Why does this deal deserve a nomination?
This deal deserves a nomination due to the complexity of the transaction and the benefits for society. Furthermore, as advisors we were able to pitch a European expansion story with this merger as a key element in creating shareholder value. Furthermore, we all know how important it is to work out regularly, when working in M&A, and we are pleased to have worked on a technology company that proactively motivated people to work out in a fun and playful way!
Comments Panel of Judges
Fit, fit, fit, daar draaide het bij deze deal om. Niet persé om de grote maatschappelijke rol die fitnessclubs tegenwoordig spelen – en de handige investeerders die daar slim op inhaken – maar ook zeker op de aansluiting tussen een digitaal sport platform en fysieke sportlocaties. Dat er bekende investeerders bij betrokken zijn met een uitstekend track record geeft de jury ook veel vertrouwen.
Bekijk alle Best Deal Mid-Market pitches & stem direct