Pitch Best Deal 2019: Triton – Sunweb Group 
Laatst bijgewerkt: 20 juli 2023 11:27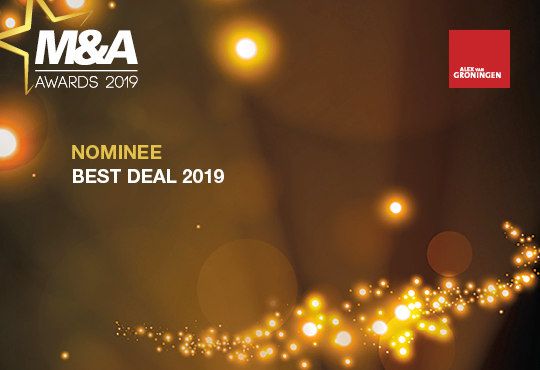 Deze deal is door de jury genomineerd en maakt kans op de M&A Award voor Best Deal 2019. Stem nu op uw favoriete deal.
De beste deal van het jaar is meer dan het hoogste cijfertje in de krant en de kunst van het dealmaken is meer dan het opstellen van een contract. De Awards voor de beste deal zou dus niet alleen op de prijs van de deal gebaseerd moeten zijn, maar vooral op de – toegevoegde – waarde voor een bedrijf en de exit.
Bekijk alle Best Deal pitches & stem direct
Name of the deal: Triton acquires Sunweb Group.
Date announced: 18th of December 2018
Published value: Between €250 million and €500 million.
Buyer: Triton Partners
Target: Sunweb Group
Seller: Founding owner, Joost Romeijn
M&A Database: Bekijk de details van deze deal.
Involved firms and advisors sell side:
M&A: William Blair
FDD: PwC – Klaas-Jan Terhorst, Hanneke Verbiest, Alex Haenen.
Tax: PwC – Bart Weijers, David van Rikxoort, Joey Schellingerhout.
Legal: Van Doorne – Onno Boerstra, Ellen de Kok.
NautaDutilh – Jeroen Preller, Arjan Pors, Barbara Nijs, Edward Rijnhout.
Involved firms and advisors target:
Involved firms and advisors buy side:
FDD: PwC – Remco van Daal, Gijs van Leeuwen.
Tax: PwC – Brenda Mooijekind, Laura Grosscurt, Cindy Ni, Korneel de Ruiter.
Legal: Kirkland & Ellis
Orange Clover – Mark Loefs, Machiel Galjaart, Zohra Zahir.
Pitch
Brief description deal / Deal outline:
The Rotterdam-based Sunweb Group, a leading European-focused online tour operator serving approximately one million customers annually, was acquired by European private equity fund, Triton Partners, on 28 February 2019. Sunweb represents the second investment out of Triton's most recent fund, Triton V, which has committed capital of €5 billion.Founded in 1991, and with more than €600 million in annual revenue, Sunweb provides packaged holidays to more than 20 focal destinations across Europe and the Mediterranean. As an online tour operator, Sunweb combines the best features of an online travel agency's asset-light business model and the content quality and customer experience provided by traditional tour operators. The company has built leading European market positions in both winter sports and summer holiday offerings via its five leading brands: Sunweb Sun, Sunweb Ski, Eliza was here, Primavera, and GOGO. Sunweb is the No. 1 European ski online tour operator, with unmatched product and price exclusivity in high-quality ski lodging.Triton Partners invests in and supports the growth of medium-sized businesses based in Europe in the industrial, business services, and consumer / health sectors. Triton aims to build better businesses through thoughtful investing, making strategic and operational improvements and expanding the businesses in which the Triton funds invest in.Triton has dedicated teams of professionals in Germany, Sweden, Norway, Finland, the Netherlands (opened in August 2019), Denmark, Italy, the United Kingdom, the United States, China, Luxembourg, and Jersey.
Deal rationale:
The European travel market has been disrupted by large tech- and online-focused companies that have exerted great pressure on traditional tour companies and asset-heavy businesses. However, demand for tour packages characterized by high-quality service remains strong among European consumers. Triton recognized these market dynamics and identified an opportunity to acquire a profitable tour company with a strong online presence and subsequently to grow that business via acquisition as well as organic growth initiatives to compete with the largest tour operators and tech-enabled competitors serving customers in the Benelux region.As a standalone entity, Sunweb represented a highly differentiated position in the travel sector as the leading pan-European online tour operator. Sunweb is known for its focus on price and quality; the company is asset-light, providing flexibility on pricing, while still providing the content quality and customer experience that traditional tour operators are known for. Sunweb maintains a strong market position, profitability, and attractive growth opportunities in existing core markets as well as significant white space in emerging and new geographies.Triton also recognized the potential for further growth for Sunweb through the acquisition of similar tour operators in the region. Soon after acquiring Sunweb, Triton acquired Corendon, a European tour operator with complementary assets, to build a top-three tour operator in the Benelux region. The combined entity is now better able to compete against larger competitors in the region to the ultimate benefit of its customers, as described below.
What is the impact of this deal for the company?
Triton's acquisition was transformative for Sunweb. Not only did Sunweb's owners and management team receive recognition and liquidity for their success in building and operating a strong and profitable tour business, they also received the capital and strategic support required to pursue further growth in the space and to compete with larger industry competitors. Following Triton's investment, Sunweb subsequently acquired Dutch tour operator Corendon, the largest independent competitor within overlapping customer segments and focal destinations, creating the third-largest tour operator in the Benelux region. The combination of these firms enabled the companies to consolidate their operations in key destinations and realize powerful benefits of scale. According to a June 2019 article by consultancy.eu, an online platform for the advisory and consulting industry, "[the ability to consolidate operations] is important in an industry characterized by high demand volatility and low-margin business – having the scale and flexibility to capitalize on holiday trends while running efficiently is paramount for profitable operations."
What is the impact of this deal for the direct stakeholders?
The acquisition of Sunweb was the first strategic acquisition by Triton's newest fund, Triton V, to focus on the travel sector. The Sunweb acquisition, followed by Triton's acquisition of Corendon several months later, has positioned Triton to build a platform that is the third-largest tour operator in the Benelux region. The acquisitions are examples of Triton's focus on identifying, supporting, and growing companies that have built a strong foundation and are in need of capital and operational support to strengthen their businesses and capitalize on new growth opportunities.For Sunweb's founder and management team, the transaction provided significant liquidity. The transaction also included reinvestment by Sunweb's founder and top management. The growth capital and strategic support provided by Triton, along with the subsequent combination with Corendon, have positioned Sunweb to continue generating significant returns for Sunweb's newly expanded ownership group.
What is the impact of this deal on the society?
Triton's acquisition of Sunweb and the subsequent acquisition of Corendon creates a sizable market player with a healthy financial profile. This combination of size and financial health is important in competing against the largest and most powerful groups that dominate the travel market in Europe, including Expedia and Booking.com. These disruptive, online players have been reshaping the market over the past decade and pushing travel agents and asset-heavy business models out of the market.A strong, healthy, and strategic European tour operator helps to limit the power and reach of these tech giants. Sunweb's continued growth will deliver meaningful benefits to European travelers in the form of convenience, price transparency, and access to memorable, high-quality travel packages at leading prices through Sunweb's online platform.The massive disruption in the space is causing well-publicised challenges for some players and this emphasizes the differentiated model and positioning Sunweb enjoys. This position enables Sunweb to take advantage of continued opportunity as a player of scale.
Why does this deal deserve a nomination?
Triton's acquisition of Sunweb is truly a transformative transaction that creates a powerhouse in the European online travel sector. The acquisition, which represented a tremendous outcome for Sunweb's founder and management, recognizes the continued strength of the European travel market and the need for strong industry players that can compete with large tech companies in the space. Sunweb's subsequent growth, particularly through Triton's acquisition of Corendon, creates a large, healthy, well-positioned travel company serving the Benelux region, and Sunweb's customers should realize the benefits of the company's growing scale and influence.The transaction also reflects Triton's commitment to investing in the Benelux region and was followed by the opening of Triton's Amsterdam office in August 2019. In addition to Sunweb, Triton's direct investments in the region include Unica, Deep Ocean and Royal Reesink.
Comments Panel of Judges:
Sunweb verkoopt niet alleen 'packaged' reizen, deze deal staat grappig genoeg ook op de shortlist omdat het eigenlijk een package deal betreft. Het feit dat Triton naast Sunweb ook Corendon heeft gekocht en zo twee partijen naast elkaar heeft gezet die ontzettend veel synergie kunnen realiseren maakte indruk op de jury. Dat die twee verkoopprocessen naast elkaar liepen en precies op het juiste moment in een stroomversnelling zijn gebracht om ervoor te zorgen dat Triton uiteindelijk beide bedrijven in handen kreeg en kon combineren werd door de jury gezien als een technisch hoogstandje. Het enige minpunt dat ter sprake werd gebracht is of de 'touring packages' nog wel passen bij het toerisme van de toekomst.
Bekijk alle Best Deal pitches & stem direct