Pitch Best Deal 2019: PAI Partners – Wessanen
Laatst gewijzigd: 20 juli 2023 11:27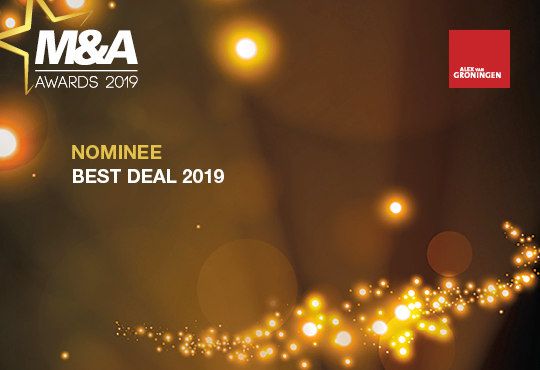 Deze deal is door de jury genomineerd en maakt kans op de M&A Award voor Best Deal 2019. Stem nu op uw favoriete deal.
De beste deal van het jaar is meer dan het hoogste cijfertje in de krant en de kunst van het dealmaken is meer dan het opstellen van een contract. De Awards voor de beste deal zou dus niet alleen op de prijs van de deal gebaseerd moeten zijn, maar vooral op de – toegevoegde – waarde voor een bedrijf en de exit.
Bekijk alle Best Deal pitches & stem direct
Name of the deal: PAI Partners acquires Wessanen.
Date announced: 10th of April 2019
Published value: €885 million
Buyer: PAI Partners, Charles Jobson
Target: Royal Wessanen
Seller: Royal Wessanen shareholders
M&A Database: Bekijk de details van deze deal.
Involved firms and advisors sell side:
Involved firms and advisors target:
M&A: ABN AMRO – Diny de Jong, Onno Groeneveld, Tomas Mink.
Lazard
Legal: Allen & Overy – Charles Honée, Stephanie Horowitz, Olivier Valk.
PR: Hill+Knowlton Strategies – Ingo Heijnen, Karl Hanuska, Derk de Vos.
Involved firms and advisors buy side:
M&A: Credit Suisse International
Legal: Freshfields Bruckhaus Deringer – Jan Willem van der Staay, Eelco van der Stok, Winfred Knibbeler, Brechje Nollen, Hanneke Rothbarth, Elske Raedts, Max van Verschuer, Bob van Kasteren, Désirée Kemperink.
De Brauw Blackstone Westbroek – Arne Grimme, Henk van Ravenhorst, Reinier Kleipool, Diederik Maessen, Paula van Ravensbergen.
PR: CFF Communications – Uneke Dekkers, Niels Broekhof, Presthaya Fixter.
Pitch
Brief description deal / Deal outline:
On 11 July 2019, a consortium consisting of PAI Partners, a leading European private equity firm, and the existing majority shareholder Charles Jobson has made a recommended all-cash public offer for all shares of Royal Wessanen, representing a total consideration of approximately EUR 885 million.Settlement of the shares tendered during the offer period occurred on 17 September 2019 pursuant to which the consortium acquired 91.39% of the Wessanen shares. Together with the additional shares tendered during the post acceptance period and the additional market purchases, the consortium acquired approximately 96.81% of the Wessanen shares. In connection with the consortium holding more than 95%, the consortium has requested, and the Euronext Amsterdam has consented to, the delisting of the Wessanen shares as per 1 November 2019. Additionally, the consortium will initiate a squeeze-out procedure pursuant to which it will acquire 100% of the Wessanen shares.By successfully concluding this deal, after having closing the public offer in respect of Refresco, worlds' largest independent bottler of beverages, less than two years ago, PAI Partners firmly establishes itself as the most active private equity player in the food and consumer market in the Netherlands in recent years.
Deal rationale:
Wessanen, a leading company in the European market for healthy and sustainable food, has strong market positions in most countries in which it operates. However, there are also challenges that Wessanen faces in an era where organic, sustainable and healthy themes have grown increasingly popular, which in turn has resulted in a more competitive landscape. The grocery channel is taking market share from the health food store channel and in the grocery channel there are new market entrants, including fast moving consumer goods players, small brands and organic private label. The consortium and Wessanen believe that Wessanen will be better placed to deal with such challenges with a long-term shareholder in a private setting. This will enable Wessanen to make the required investments to reinforce its leading position in the organic and sustainable food segment. It is the consortium's intention to accelerate Wessanen's growth by making investments in Wessanen's brands and resources.
What is the impact of this deal for the company?
The consortium fully supports the board's existing buy-and-build strategy and will seek to provide access to its extensive network and relationships across the consumer goods sector globally for Wessanen's benefit as well as to capital for Wessanen to accelerate its buy-and-build strategy. The consortium believes that Wessanen will play a prominent role in the consolidation of the organic, healthy and sustainable foods industry in Europe.The consortium intends to continue the current sustainability initiatives of the Wessanen group, including the 'B-Corp' certification, and supports the United Nations Global compact and the United Nations sustainability goals.The consortium's extensive global reach and track record in supporting international growth means it is well placed to support Wessanen. As such, it provides the financial flexibility needed for growth in the next stage of the development of Wessanen and creates a more stable environment for Wessanen.
What is the impact of this deal for the direct stakeholders?
The transaction will have a number of advantages for Wessanen and its employees, consumers and other stakeholders, including among other things, the consortium's extensive experience and a strong track record in the consumer goods sector to support management in the execution of their strategic plans, consortium's ability to provide Wessanen with ample financial backing, expertise and support for capital expenditures, investments and acquisitions in accordance with Wessanen's strategy to grow its brands in core categories, upgrade its operations and build a green, attractive and efficient company.
What is the impact of this deal on the society?
Over the past years, Wessanen has successfully converted itself into a leading company in the European market for healthy and sustainable food, focusing on organic, vegetarian, fair trade and nutritionally beneficial products. Wessanen's brands include many pioneers and market leaders, such as Clipper, Whole Earth and Zonnatura. With the acquisition of Wessanen by the consortium, Wessanen can position itself even stronger and, accordingly, contribute to a better, greener and more sustainable world, of which society as a whole will benefit.
Why does this deal deserve a nomination?
The Wessanen transaction is a high-profile deal with a highly successful outcome: 96.81% of the Wessanen shares acquired by the consortium. It is one of the very few public offers in the Netherlands in 2019/2020 and the only one in the industrial segment. Royal Wessanen belong to the Dutch heritage, but rather than shrinking even further, it has no secured a place in the sun in the international arena.
Bekijk alle Best Deal pitches & stem direct
Comments from the Panel of Judges
Deze deal gooide hoge ogen op de factor complexiteit. Wessanen kent een lange en moeizame operationele geschiedenis en heeft een interessante transitie doorgemaakt naar duurzame voeding. Dat het bedrijf nu van de beurs wordt gehaald door een buitenlandse investeerder is het volgende hoofdstuk in het boek, waarbij de jury aantekent dat er wel een fikse prijs is betaald door PAI.