Pitch Best Large-Cap Corporate Deal M&A Awards Belgium 2019: Gilead – Galapagos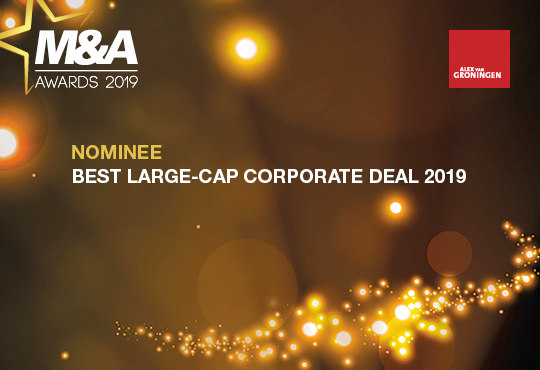 The Belgium Panel of Judges of the M&A Awards have nominated this deal for the M&A Award 'Best Large Cap Corporate Deal 2019'. This pitch was submitted by Wouter Gabriels of Lazard.
Name of the deal: Gilead and Galapagos enter into transformative research and development collaboration
Date closed: 23rd of August 2019
Published value: Upfront payment $ 3.95bn in cash and $ 1.1bn equity stake
Buyer: Gilead
Target: Galapagos
Seller: Galapagos
M&A Database: https://mena.nl/deal/11652
Visit MA-Awards.be for more information and availability of dinner tables or tickets.
Involved firms and advisors sell side:
M&A: Moelis & Company LLC, Morgan Stanley
Legal: Baker McKenzie, Cravath, Swaine & Moore, Linklaters, Sullivan & Cromwell
Involved firms and advisors target:
M&A: Moelis & Company LLC, Morgan Stanley
Legal: Baker McKenzie, Cravath, Swaine & Moore, Linklaters, Sullivan & Cromwell
Involved firms and advisors buy side:
M&A: Lazard, Barclays, Centerview Partners
Legal: Covington & Burling LLP, Eubelius, Skadden Arps Slate Meagher & Flom
Pitch
Brief description deal / Deal outline:
In July 2019, Gilead and Galapagos entered into an R&D collaboration, whereby Gilead increased its equity stake in Galapagos (from 12.3% to 22.0%) for a consideration of $ 1.1bn, in addition to paying an upfront payment of $ 3.95bn in order to gain access to Galapagos' innovative portfolio of compounds.Gilead Sciences, Inc. (Gilead) is a listed US-based biopharmaceutical company involved in discovering, developing and commercializing small molecule therapeutics to treat life-threatening infectious diseases.Galapagos NV (Galapagos) is a listed Belgium-based biopharmaceutical company focused on drug discovery and target-to-drug discovery products and services to pharmaceutical and biotechnology companies.The agreement includes two warrants allowing Gilead to further increase its ownership of Galapagos to up to 29.9%, however bound to a 10-year standstill restricting Gilead's ability to increase its stake beyond this threshold.Gilead will receive an exclusive product license and option rights to develop and commercialize all current and future programs in all countries outside Europe.Galapagos will fund and lead all discovery and development autonomously until the end of Phase 2. After the completion of a qualifying Phase 2 study, Gilead will have the option to acquire an expanded license to the compound. If the option is exercised, Gilead and Galapagos will co-develop the compound and share costs equally.
In addition, Gilead and Galapagos have agreed to amend certain terms in the agreement initially initiated in 2015, governing filgotinib, the candidate being advanced for rheumatoid arthritis and other inflammatory diseases, to provide a broader commercialization role for Galapagos in Europe.
Deal rationale:
The collaboration allows for closer scientific partnership between the two companies.Gilead will have access to Galapagos' established research base, which includes over 500 scientists, and to Galapagos' unique platform to discover and verify novel drug targets.Galapagos will use the proceeds to expand and accelerate its research and development programs. In addition, the company regains a broader role in the commercialization of filgotinib, providing the opportunity to build a commercial presence on an accelerated timeline.
What is the impact of this deal for the company?
Thanks to the deal, Gilead can fill its pipeline with new experimental drugs, including six molecules currently in clinical trials, more than 20 preclinical programs and a proven drug discovery platform, and can gain access to the Galapagos' research division.Galapagos, as part of the agreement, can continue to run its scientific research programs independently.In addition, Gilead's equity investment and accompanying 10 year stand-still agreement, accompanies Galapagos' goal to become an independent, specialized pharmaceutical company, as it prevents a full take-over by Gilead for the next 10 years. On top, Gilead's position is now so strong that a takeover bid from another pharmaceutical company is without prospects.On top, Galapagos will regain a larger part of commercialization of filgotinib in Europe, which was given up when entering in the initial filgotinib partnership in 2015.
What is the impact of this deal for the direct stakeholders?
Employees: Gilead has signed this deal with the Galapagos' board in mind, and fully recognizes the value and importance of the current management and R&D team. A retention plan for key people in the organisation will be formed.With Galapagos' independence guaranteed, no major impact on the company's DNA is expected, which is typically seen as a key factor leading to high resignation rates as seen in previous biotech integrations in larger pharmaceutical companies.Shareholders: Galapagos' share price jumped with c. 40% post the collaboration announcement.For Gilead, the access to Galapagos' pipeline gives promising outlooks for future value creation, as the absence of new successful medicines has weighed on the share price in recent years.
What is the impact of this deal on the society?
This agreement is about fostering innovation, based on developing new modes of action medicines. With the capital provided by Gilead, the goal is to accelerate the transfer of this innovation to patients.
Why does this deal deserve a nomination?
"It's a royal deal" – as brokers named the collaboration after the announcement in July. The collaboration between Galapagos and Gilead represents a unique agreement in the biotech industry, whereby focus lays on the long-term growth of both parties, guaranteeing an efficient and a mutually prospering collaboration, accelerating the launch of new medicines.Uniquely, Gilead has understood and recognized the quality and drivers of Galapagos' success. Attaching great value to the current management and R&D team, Galapagos' scientific research approach, and the important role of the fertile Flemish biotech ecosystem, Gilead aims to ensure the successful momentum by guaranteeing Galapagos independence of its scientific research programs. With the support of Gilead, Galapagos is able to accelerate its clinical research programs while keeping its dynamic biotech DNA. This is a unique collaboration, based on mutual trust, compared to previous acquisitions in the sector, where the bureaucracy of the large pharmaceuticals often held back the enthusiasm and entrepreneurial spirit of the acquired biotech players.
Comments Panel of judges
The Panel of Judges nominated the cooperation agreement between Galapagos and Gilead because of its innovative character and the clear strategic rationale for both parties. Galapagos remains financially and organizationally independent with this deal, because Gilead recognizes the added value of the current management. In this way Galapagos retains all production licenses in Europe. On the other hand, for an attractive price, Gilead is acquiring a greater stake in Galapagos; licenses for distribution outside of Europe and a pre-ownership right on new medicines. The jury sees the agreement as an elegant non-attack treaty where there are clearly two winners. In addition, the Panel of Judges praises the innovative fundings methods applied to this deal.