Pitch Best Deal 2019: EssilorLuxottica – Grandvision
Laatst gewijzigd: 20 juli 2023 11:27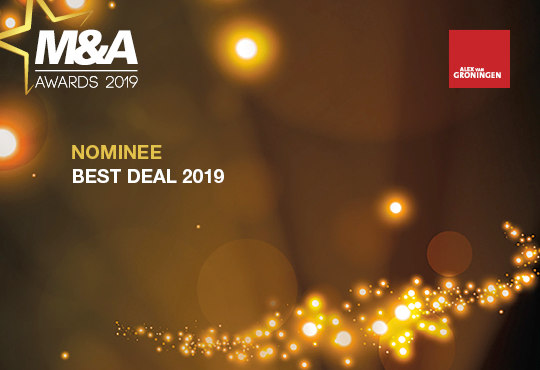 Deze deal is door de vakjury genomineerd en maakt kans op de M&A Award voor Best Deal 2019. Stem nu op uw favoriete deal.
De beste deal van het jaar is meer dan het hoogste cijfertje in de krant en de kunst van het dealmaken is meer dan het opstellen van een contract. De Awards voor de beste deal zou dus niet alleen op de prijs van de deal gebaseerd moeten zijn, maar vooral op de – toegevoegde – waarde voor een bedrijf en de exit.
Bekijk alle Best Deal pitches & stem direct
Name of the deal: EssilorLuxottica acquires majority stake in Grandvision from HAL Investments.
Date announced: 31st of July
Published value: €7.13 billion
Buyer: EssilorLuxottica
Target: Grandvision
Seller: HAL Investments
M&A Database: Bekijk de details van deze deal.
Involved firms and advisors sell side:
Legal: NautaDutilh – Leo Groothuis, Stefan Wissing, Joost Kloosterman.
PE Management: HAL Investments
Involved firms and advisors target:
M&A: ING Bank – Rob van Veldhuizen, Bart de Klerk, Arjan Minnigh, Pim Kist.
Legal: De Brauw Blackstone Westbroek – Klaas de Vries, Valentine Snijder, Paula Ravensbergen, Willemijne Adank,
Bredin Pratt
PR: Edelman – Jacqueline Lenterman, Robin van Daalen, Julian van de Wetering, Eamon van Stijn.
Involved firms and advisors buy side:
M&A: Citigroup
Legal: BonelliErede
Sullivan & Cromwell
Stibbe – Björn van der Klip, Derk Lemstra, Paul Vestering, Pieter Schütte, Jeroen Smits, Rein van Helden.
Latham & Watkins
Pitch
Brief description deal / Deal outline:
EssilorLuxottica, a French-based international ophthalmic optics company that designs, manufactures and markets lenses, has acquired majority stake (76.7%) in Grandvision, a Dutch optical retail group, from HAL Investments, a Dutch private equity firm. Grandvision employs 32,400 people and has an annual revenue of €3.721 billion. EssilorLuxottica offers 28 euros a share for HAL's stake.
Deal rationale:
Creation of an extended multichannel platform and truly global eyecare and eyewear products and services company, complementing EssilorLuxottica's existing business with GrandVision's strong direct-to-consumer business.
What is the impact of this deal for the company?
With this transaction, GrandVision will become part of a global eyecare and eyewear group having over 180,000 employees and with outstanding product innovation, manufacturing and commercialization, technology, brand portfolio, supply chain, talent development and digital expertise to foster a closer relationship with its more than 150 million consumers around the world. This would highly accelerate the execution of GrandVision's strategy, seizing future opportunities in retail and consumer interaction with eyecare and eyewear products and services. For EssilorLuxottica, the combination with GrandVision will serve as a catalyst to unlock the underlying growth potential of the eyewear and eyecare industry, growing its reach and expanding its dialogue with end consumers.
What is the impact of this deal for the direct stakeholders?
After the transaction has been successfully concluded, EssilorLuxottica will launch a mandatory cash public offer for all remaining outstanding GrandVision shares and subsequently expects to terminate GrandVision's listing and acquire full control. With the acquisition, EssilorLuxottica will increase its capacity to drive consumer engagement more effectively, to raise the standard of in-store experience, resulting in more regular eye exams, up-to-date prescriptions and an increased availability of multiple tailored vision care products to meet consumers' vision and style needs. EssilorLuxottica is committed to providing GrandVision's employees new career opportunities as members of the enlarged group; the transaction's rationale is not based on workforce reductions.
What is the impact of this deal on the society?
As Hubert Sagnières, Executive Vice Chairman of EssilorLuxottica, pointedly stated: "This acquisition is another step towards our ambition to eradicate poor vision in the world before 2050. Following the combination with Luxottica, it's a milestone in our vision of reshaping the optical industry with the aim to provide all consumers of the world a better optical experience with higher quality eyewear."
Why does this deal deserve a nomination?
This deal is landmark, because this 7.13 billion euro transaction is the largest transaction by HAL ever and creates a global eyecare and eyewear group having over 180,000 employees. Also, it employs an innovative transaction structure (sale of HAL's majority stake followed by a mandatory public offer, rather than the customary transaction structure of a voluntary public offer with the major shareholder committing to tender its shares during the acceptance period of the public offer).
Comments Panel of Judges
De jury was van mening dat dit een voorbeeld was van een prachtige buy & build: in 20 jaar tijd heeft HAL een wereldspeler van formaat opgebouwd. Ook de strategie van de deal oogste veel lof, omdat het verband tussen de retailgroep en de brillenproductie binnen de nieuwe samenstelling evident is. Als minpunten werden genoemd dat Essilor nog in een moeizame integratie verwikkeld is na de overname van Luxottica en dat de minderheidsaandeelhouders in GrandVision voor het blok zijn gezet om afstand te doen van hun deelneming.
Bekijk alle Best Deal pitches & stem direct