Genomineerden M&A Awards 2020 bekend
Laatst bijgewerkt: 20 July 2023 11:38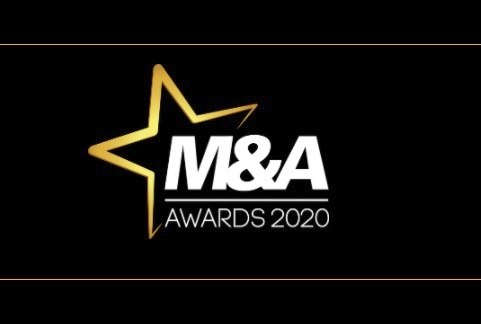 Felicitaties aan alle genomineerden voor de M&A Awards 2020.
Bekijk alle genomineerden hieronder of bekijk hier de full color PDF advertentie.
Het is weer bijna tijd voor de jaarlijkse M&A Awards! Een moment om even uit je hectische leven als dealmaker te ontsnappen en met je peers en collega's terug te blikken op de afgelopen twaalf maanden. Wat waren de hoogtepunten? Welke deals zijn mislukt? En wie worden de sterren van de M&A-show dit jaar?
Op donderdag 10 december worden de eerste M&A Awards Online live gehost vanuit de Beurs van Berlage. Het wordt een viering van de veerkracht van het Nederlandse bedrijfsleven in het algemeen, en het M&A-vak in het bijzonder. We verwachten dat het evenement van dit jaar het meest unieke (online) evenement ooit wordt.
Je zult een e-ontmoeting hebben met 1000 dealmakers van het hoogste niveau die allemaal hun successen en mislukkingen hebben gehad in de virtuele evenementenlocatie. Een uniek en innovatief concept om de M&A Awards 2020 live mee te maken in de Beurs van Berlage. Dit is de avond om te delen, te onthouden en natuurlijk samen te vieren.
REGISTREER HIER VOOR DE M&A AWARDS ONLINE
DE GENOMINEERDE DEALS EN DEALMAKERS IN 2020 ZIJN:
Best Deal
Blackstone – NIBC
Boels Rental – Cramo
HAL Investments – Royal IHC
KKR – Roompot Group
Mitsubishi Corporation – Eneco
Takeaway.com – Just Eat
Best Deal Mid-Cap
Alliander – TReNT Glasvezel
Astorg – Normec Group
COFRA – Sunrock
Royal DSM – Royal CSK
SAUR – Nijhuis
Visma – Visionplanner
Best Small Cap Deal
Corsearch – Pointer Brand Protection
Egeria – Aircraft Part-Out Company
Gilde Equity Management – HC Groep
Infoplaza – Weeronline.nl
Kennemervis Groep – Bobeldijk Food Group
KidsKonnect – KidsVision
Mirage Retail Group – BCC Holding
NCOI – LOI
Richa – MotorKledingCenter
Synergia Capital Partners – For Ever
Torqx Capital Partners – Fabory
Trigano – Gimeg
Unlimited Spare Parts International – Delba
Best M&A House
Hogenhouck m&a
ING Bank
J.P. Morgan
Lazard
Oaklins Netherlands
Rothschild & Co
Best M&A Advisor
Nicholas Aperghis, Aperghis & Co
Sander Griffejoen, Rothschild & Co
Max ter Linden, ABN AMRO
Bastiaan Vaandrager, Rothschild & Co
Rob van Veldhuizen, ING Bank
Cassander Verwey, J.P. Morgan
Best M&A Advisor Mid-Market
Paul de Hek, ING Bank
Rob Oudman, Houlihan Lokey
Robert Ruiter, ING Bank
Jeroen Valk, EY
Eric Wijs, Lincoln International
Mark Zuidema, KPMG
Best M&A Lawyer
Onno Boerstra, Van Doorne
Arne Grimme, De Brauw Blackstone Westbroek
Lennard Keijzer, De Brauw Blackstone Westbroek
Karine Kodde, Allen & Overy
Michiel Pannekoek, Houthoff
Klaas de Vries, De Brauw Blackstone Westbroek
Best M&A Lawyer Mid-Market
Dennis de Breij, deBreij
Bram Caudri, Houthoff
Joost den Engelsman, NautaDutilh
Harmen Holtrop, Loyens & Loeff
Matthijs Ingen-Housz, INGEN HOUSZ
Gijs Linse, Allen & Overy
Best Debt Advisor
Mirjam Anderson, IRIS Corporate Finance
Daan Bouwman, Nielen Schuman
Rafael Gomez Nunez, Nielen Schuman
Alexander Olgers, Deloitte
Bas Stoetzer, Oaklins Netherlands
Marcel van de Wijdeven, Nielen Schuman
Best Transaction Services Advisor
Roën Blom, Deloitte
Remco van Daal, PwC
Ewald van Hamersveld, KPMG
Leontine Koens-Betz, Accuracy
Age Lindenbergh, Alvarez & Marsal
Joost Siemensma, SINCERIUS
Best M&A Tax Advisor
Guido Derckx, Loyens & Loeff
Remko Franssen, PwC
Oscar Janssen, JSA Tax
Ronald van de Merwe, JSA Tax
Henk van Ravenhorst, De Brauw Blackstone Westbroek
Rowdy Schouten, JSA Tax
Best Acquisition Finance Provider
ABN AMRO
Ares Management
Dutch Mezzanine Fund
ING Bank
NIBC Mezzanine & Equity Partners
Rabobank
Best M&A Law Firm
Allen & Overy
De Brauw Blackstone Westbroek
Clifford Chance
Houthoff
Loyens & Loeff
NautaDutilh
Best Dutch M&A Law Boutique
CORP.
deBreij
INGEN HOUSZ
JanssenBroekhuysen Advocaten
Stek
Vriman M&A Lawyers
Best Private Equity House
3i Group
CVC Capital Partners
Gilde Buy Out Partners
IK Investment
KKR
Waterland Private Equity
Best Private Equity House Mid-Market
Bencis Capital Partners
Egeria
Gilde Equity Management
Main Capital
Mentha Capital
Parcom
Best Private Equity House Lower Mid-Market
Active Capital Company
Bolster Investment Partners
Committed Capital
Gilde Healthcare
NewPort Capital
Vortex
Best Family Office
Foreman Capital
HAL Investments
De Hoge Dennen
NPM Capital
Reggeborgh Invest
Strikwerda Investments
Best Hands-On Investment Firm
5square
H2 Equity Partners
Nimbus
Social Impact Ventures
Standard Investment
Torqx Capital Partners
Best Venture & Growth Capital Provider
Holland Capital
HPE Growth
Life Sciences Partners
Peak Capital
Prime Ventures
Walvis Participaties
Best Young Private Equity Manager
Stefan de Groot, Capital A
Dennis Hofmans, NewPort Capital
Reinier Meurs, Torqx Capital Partners
Hanneke Modderman, Bolster Investment Partners
Leonard Spigt, Active Capital Company
Daniëlla Vellinga, Rabo Corporate Investments
Marie Weijler, Cottonwood Technology Fund
Best Young M&A Advisor
Marijke Aarts, ING Bank
Marlon Brand, IMPROVED Corporate Finance
Hans van den Heuvel, KPMG
Jurjen IJska, Lindenaar & Co
Wendy van Luit, PwC
Folkert Peek, ABN AMRO
Rian Zwart, KPMG
Best Young M&A Lawyer
Frank Hamming, De Brauw Blackstone Westbroek
Jasmijn Harms, Houthoff
Victor van Nuland, Loyens & Loeff
Marieke Pols, NautaDutilh
Jos Somers, NautaDutilh
Best M&A Law Firm Under Dutch Law
AKD
Allen & Overy
De Brauw Blackstone Westbroek
Houthoff
Loyens & Loeff
NautaDutilh
Best ECM Deal
IPO of CM.Com
IPO of CureVac
IPO of JDE Peet's
Gaat u binnenkort ook een overname doen of private equity aantrekken?
Maximaliseer uw kans op succes en schakel de beste adviseurs, investeerders en financiers in. 3 tips:
1. Volg de M&A Awards op 10 december live vanuit Beurs van Berlage
Met 1000 professionals is de M&A Awards het jaarlijkse hoogtepunt van de M&A Community met prestigieuze prijzen voor de beste deals, dealmakers, adviseurs en financiers. Ontmoet elkaar online en vier de successen van het afgelopen jaar tijdens de unieke Awardshow. Professionals simply can't afford to miss out. Bezoek het meest spectaculaire online M&A event ooit via MAawards.nl.
2. Vind alle top-notch adviseurs in de Top 1000 Dealmakers 2021
Word lid van de M&A Community en ontvang kosteloos dit uitstekende naslagwerk (400 pagina's!) met de top 1000 dealmakers op een rij. Vergroot de kans dat uw overname een succes wordt. Schakel de beste adviseurs, investeerders en financiers in. De Top 1000 Dealmakers 2021 geeft u het ultieme inzicht. Word nu lid via MenA.nl.
3. Word nu lid voor meer kennis en meer deals
De mooiste deals sluit u met de juiste kennis en de beste contacten in uw netwerk. De M&A Community biedt u als lid meer kansen en meer kennis tijdens de M&A Fora, M&A Masterclasses, op MenA.nl, in M&A Insight, Database & Leaguetables, M&A Magazine en de Top 1000 Dealmakers. Word direct lid via MenA.nl.