Genomineerden M&A Awards 2017 bekend
Laatst gewijzigd: 20 juli 2023 10:50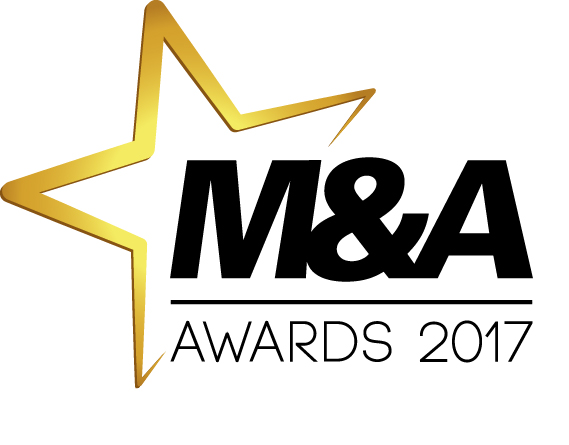 Felicitaties aan alle genomineerden voor de M&A Awards 2017. Bekijk de shortlist van dé experts in M&A en Private Equity in Nederland.
Bekijk alle genomineerden hieronder op een rij of in het FD van 16 november.
Na een extatisch dealseizoen is er in december weer het moment om te reflecteren en vooruit te kijken tjidens de M&A Awards, het jaarlijkse hoogtepunt in de overnamewereld. In deze feestelijke traditie, die al 18 jaar lang in leve is, worden de beste deals, adviseurs, corporates en investeerders geëerd met een felbegeerde award. Een avond waar de top van dealmakend Nederland aanwezig is, die kunt u als professional simpelweg niet missen.
Komt u ook naar de M&A Awards?
Bezoek de M&A Awards op 14 december in Beurs van Berlage. Geniet van de overweldigende hospitality, de jaarlijkse champagnereceptie aangeboden door ABN AMRO Escrow & Settlement, een swingend optreden van Ruth Jacott, de Loyens & Loeff Bols cocktailbar, de afterparty met lounge DJ's, modellen van Models at Work en veel meer. Wilt u verzekerd zijn van een tafel tijdens hét jaarlijkse evenement voor M&A, corporate finance en private equity? Er zijn nog 10 dinerkaarten beschikbaar, reserveer hier uw dinerkaarten. Wilt of kunt u enkel het galafeest bezoeken? Uiteraard bent u van harte welkom op het galafeest (vanaf 21.30 uur). Er zijn nog 20 kaarten beschikbaar, reserveer hier uw feestkaarten. Voor meer informatie bezoek Overnames.nl of neem contact op met Ezri Joy Blaauw via eblaauw@alexvangroningen.nl of 020 578 8913 / 06 4638 4782.
Gratis naar het M&A Awards galafeest?
Word vóór 14 december lid van de M&A Community met de code actie1 en ontvang een vrijkaart (t.w.v. 500 euro) voor het galafeest. Meld u nu aan.
Breng tot 9 december uw stem uit voor Best Young M&A Talent & Best Small Cap Deal
De online stembussen zijn geopend voor de awards Best Small Cap Deal en Best Young Talent. Tot en met 9 december kunnen (online) leden van de M&A Community live stemmen op Best Small Cap Deal en Best Young Talent.
GENOMINEERDEN M&A AWARDS 2017
Best Deal
Apollo Global Management – Lumileds
KKR – Q-Park
Mediahuis en VP Exploitatie – Telegraaf Media Groep
Moody's – Bureau van Dijk
NN Group – Delta Lloyd
Toyota Industries – Vanderlande Industries
Best Deal Midmarket
ASR Nederland N.V. – Generali Nederland
Ergon Capital Partners – Keesing Media Group
Five Arrows Principal Investment – Voogd & Voogd
Royal Dutch Shell – NewMotion
Standard Investment – Riedel
Warner Music Group – Spinnin' Records
Best ECM Deal
FPO AMRO follow-on offering
FPO ASR Nederland follow-on offering
FPO Heineken Holding follow-on offering
IPO Avantium
IPO VolkerWessels
Best Small Cap Deal (breng hier uw stem uit)
ABN AMRO Participaties – Lyanthe
Active Capital Company – Arnold Suhr
Antea Participaties – DVK Media Group
Gilde Healthcare & PGGM – Syncom
H2 Equity Partners – Poultry Machinery Joosten
Karmijn Kapitaal & IMA Management – IMA
Knip – Komparu
Main Capital – Inergy Analytical Solutions
Best Buy Out Manager
Tom van Aken, Avantium
Peter de Heer, HG International
René Moos, Basic-Fit
Gerhard Nordemann, Gilde Equity Management
Jim Vermeule, DentConnect
Arnold Zuidgeest, Marfo
Best M&A Director
Pim Berendsen, PostNL
Roger Gerritzen, Dümmen Orange
Marc Koster, Heineken
Barry Masclee, Talpa
Stewart McCrone, Philip
Emile Poot, Damen Shipyards Group
Best General Counsel
Else Buijs, Boskalis
Lonneke de Beer, SHV Holdings
Sven Dumoulin, Akzo Nobel
Thijs van der Lugt, Aalberts Industries
Sharog Manesh, Dümmen Orange
Wendela van Uchelen, NS
Best Limited Partner
Marc Dreesmann, CommonWealth Investments
Wouter ter Horst, a.s.r. real estate investment management
Herman Kleeven, APG Asset Management
Eric-Jan Vink, PGGM
Maarten Vervoort, AlpInvest
Best Private Equity Manager
Pieter de Jong, 3i Group plc
Boris Kawohl, 3i Group plc
Boudewijn Molenaar, Gilde Buy Out Partners
Kristiaan Nieuwenburg, EQT
Hans Scheepers, Waterland Private Equity
Lex Douze, Waterland Private Equity Investments
Best Private Equity Manager Midmarket
Bas Becks, Parcom Capital
Gijs Botman, Mentha Capital
Bart Coopmans, NPM Capital
Zoran van Gessel, Bencis Capital Partners
Friso Janmaat, ABN AMRO Participaties
Floris Waage, Egeria
Best Investment Manager Family Office
Marius Coebergh, De Hoge Dennen
Maarten Douma, Indofin Group
Patrick Jager, HAL Investments
Stef Koning, HB Capital
Taco Rietveld, HB Capital
Jaap van Wiechen, HAL Investments
Best Venture Capital Manager
Sake Bosch, Prime Ventures
Hans van Ierland, HPE Growth Capital
Ewout Prins, Holland Venture
Harm de Vries, Innovation Industries
Pieter Welten, Prime Ventures
Best M&A Advisor
Danny Bosker, KPMG
Istvan Csejtei, PwC
Sander Griffejoen, Rothschild
Bastiaan Vaandrager, Rothschild
Rob van Veldhuizen, ING Bank
Cassander Verwey, J.P. Morgan
Best M&A Advisor Midmarket
Matthew Gooch, William Blair
John Hak, AXECO
Jan Willem Jonkman, Capitalmind
Roy Stegeman, Deloitte
Frank Verbeek, IMPROVED Corporate Finance & Drake Star Partners
Jan de Wilde, Nielen Schuman
Best M&A Lawyer
Jan Louis Burggraaf, Allen & Overy
Arne Grimme, De Brauw Blackstone Westbroek
Leo Groothuis, NautaDutilh
Jan-Paul van der Hoek, Houthoff
Karine Kodde, Allen & Overy
Leo Verhoeff, Simmons & Simmons
Best M&A Lawyer Midmarket
Dennis de Breij, De Breij Evers Boon
Bram Caudri, Houthoff
Luc Habets, Lexence
Harmen Holtrop, Loyens & Loeff
Matthijs Ingen-Housz, INGEN HOUSZ
Herman Kaemingk, Loyens & Loeff
Best M&A House Dutch Market
ABN AMRO
Deloitte
ING Bank
J.P. Morgan
KPMG
Rabobank
Best Dutch M&A Boutique
Aperghis & Co
Capitalmind
IMPROVED Corporate Finance & Drake Star Partners
Nielen Schuman
Oaklins Netherlands
Rothschild
Best Dutch M&A Law Firm
Allen & Overy
De Brauw Blackstone Westbroek
Houthoff
Lexence
Loyens & Loeff
NautaDutilh
Best Dutch M&A Law Boutique
Biesheuvel Jansen advocaten
De Breij Evers Boon
INGEN HOUSZ
JanssenBroekhuysen Advocaten
Stek
Vriman M&A Lawyers
Best Transaction Support Advisor
Hans Dullaert, PwC
Patrick de Graaf, KPMG
Ewald van Hamersveld, KPMG
Bruno Jelgerhuis Swildens, EY
Niek Kolkman, KPMG
Ad Veken, Deloitte
Best Transaction Support Advisor Midmarket
Remco van Daal, PwC
Maurice Dercks, Deloitte
Leontine Koens-Betz, Accuracy
Ruben Mikkers, KPMG
Arnoud Oltmans, Deloitte
Joost Siemensma, SINCERIUS
Best Acquisition/Leverage Finance Banker
Jan Pieter Adriaanse, Rabobank
Pieter Bautz, ING Bank
Peter Jan Hooy, ING Bank
Franck de Lange, ABN AMRO
Geert Jaap van Nieuwenhuyzen, ING Bank
Jacco Rolvink, Rabobank
Best Debt Advisor
Gurjit Bedi, Marlborough Partners
Daan Bouwman, Nielen Schuman
Ard Burgers, PwC
Christian Savvides, Rothschild
Alexander Olgers, Deloitte
Bas Stoetzer, Oaklins Netherlands
Best ECM Banker
Gerbrand ter Brugge, Oaklins Netherlands
Rob Eilering, Rabobank
Pim Kist, ING Bank
Rico Overhaart, ING Bank
Chris van Schuppen, ABN AMRO
Joris Voorhoeve, Kempen & Co
Best ECM Lawyer
Jan Willem Hoevers, De Brauw Blackstone Westbroek
Hanneke Rothbarth, Freshfields Bruckhaus Deringer
Pieter Schütte, Stibbe
Tim Stevens, Allen & Overy
Jetty Tukker, Houthoff
Petra Zijp, NautaDutilh
Best Banking and Finance Lawyer
Femke Bierman, Allen & Overy
Frans Haak, Stek
Jelle Hofland, Clifford Chance
Wouter Jongen, Hogan Lovells
Max Mayer, Freshfield Bruckhaus Deringer
Jessica Terpstra, Houthoff
Best M&A Tax Advisor
Nico Blom, NautaDutilh
Guido Derckx, Loyens & Loeff
Arthur Goedkoop, Deloitte
Peter Josten, PwC
Rowdy Schouten, JSA Tax Consultancy
Alex van Wamel, EY
Best Valuator
Hans Haanappel, Fair Value Consultants
Bas van Helden, Accuracy
Wim Holterman, PwC
Jan Jaap Snel, Duff & Phelps
Jeroen van der Wal, Deloitte
Jeroen Weimer, KPMG
Best Restructuring Advisor
Dolf Bruins Slot, EY
Eddie van Dinther, Deloitte
Gijs de Reuver, Houlihan Lokey
Oscar Snijders, Deloitte
Klaas Wagenaar, Bold Capital Management
Peter Wolterman, PwC
Best PR Advisor
Uneke Dekkers, CFF Communications
Frans van der Grint, Hill+Knowlton Strategies
Ingo Heijnen, Hill+Knowlton Strategies
Geert Pielage, CFF Communications
Sabine Post-de Jong, Hill+Knowlton Strategies
Jeroen Sparrow, Sparrow & Partners
Best Young Talent M&A (breng hier uw stem uit)
Michael Beemer, ING Bank
Philip van der Eijk, Houthoff
Roel Fluit, Loyens & Loeff
Renee van Geel, Mentha Capital
Marc Habermehl, Stibbe
Willem op de Hoek, IMAP Netherlands
Marieke van der Holst, Allen & Overy
Roos Jongeneel, Taxand
Niels Jonker, Rabobank
Mathijs van Meer, Gilde Equity Management
Yoeri Mochtar, ABN AMRO Participaties
Rutger Mulder, SINCERIUS
Praveen Naipal, Aperghis & Co
Bastiaan Oomens, PwC
Laurens Platteeuw, Holland Venture
Joost Polman, Baker & McKenzie
Femke Prins, Lexence
Sherief Rahim, IMPROVED Corporate Finance/ Drake Star Partners Amsterdam
Michaël Rijnja, Stek
Stefan Wissing, NautaDutilh
—
Gaat u binnenkort ook een overname doen of private equity aantrekken?
Maximaliseer uw kans op succes en schakel de beste adviseurs, investeerders en financiers in. 3 tips:
1. Bezoek de M&A Awards op 14 december in Beurs van Berlage
Met 900 professionals is de M&A Awards het jaarlijkse hoogtepunt van de M&A Community met prestigieuze prijzen voor de beste deals, dealmakers, adviseurs en nanciers. Een evenement met schwung, black tie, hospitality en topentertainment. Professionals simply can't afford to miss out. Reserveer direct een tafel of feestkaart via Overnames.nl.
2. Vind alle top-notch adviseurs in de Top 1000 Dealmakers 2018
Word lid van de M&A Community en ontvang kosteloos dit uitstekend naslagwerk (300 pagina's!) met de top 1000 dealmakers op een rij. Vergroot de kans dat uw overname een succes wordt. Schakel de beste adviseurs, investeerders en financiers in. De Top 1000 Dealmakers 2018 geeft u het ultieme inzicht. Word nu lid via MenA.nl.
3. Word nu lid voor meer kennis, kansen en deals
De mooiste deals sluit u met de juiste kennis en beste contacten. Daarom biedt de M&A Community u als lid meer kansen en meer kennis tijdens de M&A Fora, M&A Masterclasses, op MenA.nl, in M&A Database & League tables, M&A Magazine en Who's Who in M&A en Private Equity. Gratis naar M&A Awards-galafeest? Word vóór 14 december lid via MenA.nl.
4. Bezoek de ​Nieuwjaarsbijeenkomst voor ​M&A Awards genomineerden en winnaars
Op woensdag 1​0 januari​ om ​16.45 uur heten wij alle ​genomineerden en ​winnaars ​welkom ​​tijdens de Nieuwjaarsbijeenkomst 2018 bij CMS Amsterdam. Proost op een succesvol 2018 met leden van de M&A Community en CFO Association en ontdek de beste kansen voor 2018. ​Meld u hier alvast aan.