20 gratis kaarten voor Rockstart Demo Day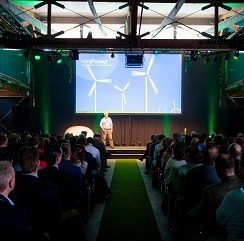 Alex van Groningen werkt samen met Rockstart Demo Day, de grootste start-up machine ter wereld, waar investeerders kunnen kennismaken met 10 innovatieve jonge bedrijven. Er zijn 20 gratis kaarten beschikbaar voor CFO's en investeerders. Meld u nu aan!
"Building the World's greatest startup machine" is the mission of Amsterdam based Rockstart.
Twice a year they organise a "Demo Day" where 10 international startups give a 5-minute presentation to a large audience of investors, entrepreneurs and the press.
Alex van Groningen has partnered up with Rockstart to give away 20 tickets to investors and CFO's for the next Demo Day on June, 12th at Westergasfabriek in Amsterdam. All you have to do is send an email to
marleen@rockstart.com
and we will let you know if you're part of the first 20.
Preparing for Demo Day
The 10 startups that you will see present were selected out of 512 applications from 56+ countries back in January. These companies started a 100-day accelerator program in March and will end the program with a presentation of their business at the so called "Demo Day" to an audience of 450 investors, Rockstart mentors, partners, entrepreneurs and industry journalists.
About the startups
The group of startups that you will see present come from 12 different countries and are building solutions for education, transportation, crowdfunding, sales and e-commerce. To get an impression about Demo Day, you can watch our highlights video from last year's Rockstart Accelerator Web & Mobile Demo Day here:
bit.ly/RSADD13
Auxen
– "Auxen allows publishers, journalists and individual writers to analyse, control and engage through their online texts."
Bomberbot
– "Bomberbot is an online game in which children develop computational and logical thinking skills in a fun, visual and simple way, encouraging them to have a creative and limitless mind."
CoffeeStrap
– "CoffeStrap provides crossdevice instant access to seven minutes face to face sessions with language peers"
CrowdyHouse
– "CrowdyHouse is unique design ecommerce platform, direct from the designer, produced in series for the best price."
LeadBoxer
– LeadBoxer is a pre-sales and lead discovery tool which identifies company visits from anonymous website traffic.
Songvice
– "Songvice is Spotify for Music Education. We provide a platform where real musicians can open their very own online music school. "
SocialHoney
– "Social Honey is building a solution that sources ratings and reviews for web content, and provides consumer insight based on a combination of user-generated feedback and big data analysis."
Technorides
– `It's a cloud-based and mobile dispatching platform that simplifies financial and ride management for the transportation industry."
TOP Research
– "TOP Research has the best productivity tools that empowers active professionals to manage, collaborate and share, because TOP Research is platform independent and format free."
Wonderflow
– "Wonderflow boosts ecommerce conversion rates by 30% by providing online stores with text and video reviews about products they sell."
About Rockstart Accelerator
Rockstart Accelerator is an intensive startup
program
that helps entrepreneurs take their companies from early traction to the global market in 6 months. It provides investment, office space, highly specialized knowledge, and access to a broad network of international mentors, partners and investors.
The first Rockstart Accelerator launched in 2012 and has accelerated 40 startups in three programs in the Web/Mobile and the Smart Energy space. The earlier two Web/Mobile Accelerators have shown great results: 80% of the two batches of startups have been funded by investors like Greylock Partners, Balderton Capital, Vitulum Ventures and other renowned European and American angels.