Yielder Group acquires Venéco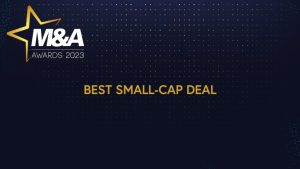 Stem op deze deal via de stempagina: Mena.nl/genomineerden-best-small-cap-deal-2023
Name of the deal: Yielder Group acquires Venéco from Venéco Shareholders
Date announced and/or closed: 08 May 2023
Published value: 5-25 million
Buyer(s): Yielder Group
Target: Venéco
Seller: Venéco Shareholders
Involved firms and advisors
Legal Advisory Corporate/M&A | CORP.
Financial Due Diligence |  TIC Advisory
M&A Advisory | IRIS Corporate Finance
Pitch
Deal outline
Yielder Group, a Dutch telecom and IT service provider company and a portfolio company of Capital AQ, has acquired Venéco, a Dutch ICT and telecoms specialist. With this acquisition, Yielder Group strengthens its IT portfolio and reinforces its position as an independent partner in the corporate Telecom and IT market.
Why Should This Deal Win the Award for Best Deal Small-Cap 2023?
The sale of Venéco to Yielder should be recognized as the Best Small-Cap Deal of 2023 for several compelling reasons. By joining forces with Yielder Group, Venéco enhances its effectiveness and strengthens its position in the IT and telecom market. This acquisition provides Venéco with access to numerous innovative IT solutions and a talented pool of employees, propelling it forward as a leader in automation and digitalization. As a Microsoft Solutions Partner across various domains, Venéco provides a strong foundation for productivity and cybersecurity. The acquisition aligns with Yielder Group's growth strategy, enabling them to strengthen their position in domestic and international markets and further empowering their offerings in the areas of productivity and cybersecurity.
Additionally, Yielder's strong position in the domain of telecom, with substantial bargaining power on both the supplier and client sides, opens doors to synergies in Venéco's client base.
The strategic partnership between Yielder Group and Venéco can be best summarized as follows:
One-stop shop: Venéco has adeptly positioned itself as the go-to destination for IT, telecom, and security needs within the Dutch SME+ market. Their comprehensive proposition creates a level of customer loyalty and retention that borders on a lock-in, ensuring business stability and remarkably low churn rates. Yielder Group, specialized in the domain of Telecom, can leverage Venéco's IT expertise to create a similar lock-in organization-wide, thereby substantially increasing the value of the proposition.
Exclusive partnerships:  Venéco has a number of exclusive partnerships that offer the highest quality to its customers. For IT services, Venéco has Gold and Silver partnerships with hardware and software suppliers such as Microsoft and HP. In the telecom domain, Venéco will become part of Yielder Group's strategic partnerships with leading telecom providers.
Skilled, loyal workforce in a competitive market: Venéco has an experienced and well-trained workforce that has been loyal to the company for many years. Personnel, as creators of the customer experience, are paramount to the quality and satisfaction of the team. By joining forces with Yielder Group, new growth opportunities become available for Venéco's employees, ensuring that the staff remains motivated to take on new challenges in a fiercely competitive market where there is high demand for qualified and dynamic IT and telecom professionals.
Venéco, being one of the last standalone operating IT companies in the Netherlands of a certain size in a rapidly consolidating Dutch market, gained significant interest throughout the process. The strategic relevance of the partnership underlines its significance as the best mid-cap deal of 2023.
Deal rationale
The acquisition of Venéco by Yielder Group seamlessly fits into Yielder Group's growth strategy, which proactively seeks buy and build opportunities to strengthen its market position and acquire expertise in the IT domain. For Yielder Group, this acquisition represents a substantial opportunity for growth and diversification, aligning perfectly with their strategic vision. Leveraging the knowledge and expertise in the telecom domain, Venéco's CEO, Wilbert Nederpelt, is given the capacity to further optimize the joint IT customer portfolio.
What is the impact of this deal for the company?
The impact of this deal on both Yielder Group and Venéco is significant. For Yielder Group, it represents a major step forward in terms of capabilities and offerings. The addition of Venéco's innovative IT solutions expands their service portfolio, enhancing their position as an independent telecom and IT service provider in the Netherlands. As a Microsoft Solutions Partner, Venéco will kickstart Yielder's activities in the field of productivity and cybersecurity.
Venéco, on the other hand, strategically aligns with Yielder Group to secure its position in a market that is rapidly consolidating. By becoming part of Yielder Group, Venéco strengthens its market position and has the means and capacity to further focus on innovation, which is key in this market.
What is the impact of this deal for the direct stakeholders?
Employees from both Venéco and Yielder Group stand to gain new opportunities and career prospects as the companies combine their resources and expand their service offerings. Furthermore, clients of both Venéco and Yielder Group will benefit from the combination of IT and Telecom.
What is the impact of this deal on society?
This acquisition drives technological advancement by combining the IT and telecom expertise of both companies, leading to the development of innovative solutions and services. As the newly formed entity grows, job creation is a likely outcome, offering new opportunities and reducing unemployment.
The merger's leadership in automation and digitalization will facilitate the digital transformation of businesses and organizations, leading to greater operational efficiency, which contributes to society as a whole.
What was most complex about this deal?
Given Veneco's forward-thinking nature in the Westland region and the high demand for well-trained personnel, it was crucial to ensure not only strategic alignment but also a significant cultural alignment with a partner. Extensive discussions took place alongside Wilbert Nederpelt to achieve an optimal partnership that benefits customers, suppliers, shareholders, and the team.

Stemmen is niet meer mogelijk