Rhenus Group acquires Rietlanden Terminals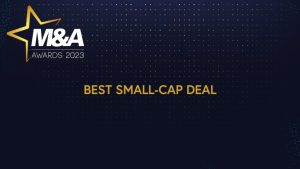 Stem op deze deal via de stempagina: Mena.nl/genomineerden-best-small-cap-deal-2023
Name of the deal: Rhenus Group acquires Rietlanden Terminals from JERA Global Markets
Date announced: 18 September 2023
Published value: Not disclosed
Buyer(s): Rhenus Group
Target: Rietlanden Terminals
Seller: JERA Global Markets
Involved firms and advisors
Legal Advisory Corporate/M&A | NautaDutilh (legal)
Tax Advisory | NautaDutilh
M&A Advisory | ING
Legal Advisory Corporate/M&A | Meijburg Legal 
Financial Due Diligence | KPMG
Tax Advisory | Meijburg & Co
Pitch 
Deal Outline
The Rhenus Group has acquired a 49.99% shareholding in Rietlanden Terminals from JERA Global Markets. Rietland Terminals operates two terminals located at the Port of Amsterdam, the Netherlands. Rhenus will acquire the remaining 50.01% in 2027.
Deal Rationale
Transaction rationale: in 2017, the Port of Amsterdam formulated the ambition to transform into a sustainable energy hub, and as such to run a coal-free port by 2030. Following a strategic review, JERA Global Market (Singapore-based energy trader and seller) concluded that other parties would be better positioned to support the repurposing of Rietlanden Terminals (Amsterdam-based coal transshipment company and the target) to a sustainable future-proof alternative
Impact of This Deal on the Company
The Rhenus Group is strengthening its European network of ports through this participation and will re-develop the terminals to cope with a future without coal.
Impact of This Deal on Direct Stakeholders
ESG driven transaction: JERA Global Markets initiated a strategic review to find a suitable solution well ahead of the ultimate transition deadline imposed by the Port of Amsterdam
> Environmental: instant and accelerated shift away from coal operations in the port of Amsterdam, contributing to the development of a sustainable hub
> Social: alternative logistical flows introduced by the incoming buyer allow for close to a hundred employees to continue to work for Rietlanden Terminals in the future (alternative for this transaction would have been to shutdown of operations by 2030)
> Governance: revised board structure and alternative target setting given join-ownership (until full exit in 2027), to safeguard interest of all stakeholders (including Port of Amsterdam)
Impact of This Deal on Society
The coal terminals of Rietlanden in the Amsterdam port are being sold. Under the wing of the copper company Rhenus, a new future as a transshipment terminal for other cargo flows, just as the port desires by 2030, is on the horizon. The sale involves two out of the three coal terminals in the Amsterdam port. In the Afrikahaven and Amerikahaven, transshipment company Rietlanden, with over a hundred employees, can store and process 2.6 million tons, primarily destined for coal power plants in Germany. Since 2017, Rietlanden had been owned by Jera, a Singapore-led energy giant. An agreement has been reached with the German logistics company Rhenus for the acquisition of the two Amsterdam transshipment terminals, which will gradually transition into German hands by 2027. Rhenus already has around 25 branches in the Netherlands, such as at Schiphol and in the Rotterdam port, but not in Amsterdam.
In their joint press release, Jera and Rhenus explicitly acknowledge that it will be 'not allowed' to handle coal in the Amsterdam port from 2030 onwards. Therefore, alternative cargo flows will be sought for the transshipment terminals. Coal-free by 2030.
With this move, Rhenus aligns with the goal of the Amsterdam Port Authority to cease coal transshipment by 2030. The port announced this in 2017 because coal seemed to have a limited future, emitting a substantial amount of greenhouse gases when burned for energy production. Technically, coal transshipment is not prohibited.
The fact that these companies are going along with this is, therefore, a positive development for the port. The Amsterdam Court of Audit had raised questions about the policy to declare the port coal-free by 2030 just last year. According to the Court of Audit, this ambition was only outlined in declarations of intent and policy documents, with no concrete steps taken towards implementation.
For the climate action group "Kappen met Kolen," this was a reason to block coal-filled trains at Rietlanden dozens of times. The activists also pointed out that the three coal terminals in the Amsterdam port were owned by financially strong, globally operating companies, raising doubts about whether they would comply with the 2030 coal phase-out.
Therefore, the port is pleased with the new plans for Rietlanden. "We are very happy with this new, major logistics player who has the ambition to transform these terminals into a company with great potential for the future."
Most Complex Aspect of This Deal
 Transaction complexity: interesting and complex transaction dynamics, including:
requirement to repurpose the terminal,
deal structured through staged exit for JERA Global Markets to secure access to critical infrastructure and to optimize tax structuring,
stakeholders with different objectives (JERA Global Markets, Rietlanden Terminals, Rhenus Group, Port of Amsterdam),
port approval process (ultimate say), and v) cultural differences of parties involved (Japanese / Singaporean seller, Dutch target and port operator, German buyer)

You have not voted for anyone in this category yet.