Karmijn Kapitaal acquires a majority stake in NCH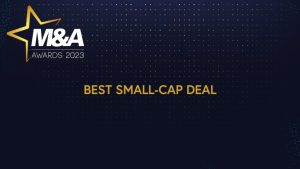 Stem op deze deal via de stempagina: Mena.nl/genomineerden-best-small-cap-deal-2023
Name of the deal: Karmijn Kapitaal acquires a majority stake in NCH
Date announced and/or closed: April 2023
Published value: N/A
Buyer(s): Karmijn Kapitaal
Target: Natural Cosmetics Holland (NCH)
Seller: Natural Cosmetics Holland (NCH)
Involved firms and advisors
Legal Advisory Corporate/M&A | deBreij
Financial Due Diligence | FTI-BOLD.
Tax Advisory | Atlas Fiscalisten
Consultancy | M3 Consultancy
Consultancy | MJ Hudson
Legal Advisory Corporate/M&A | Tanger Advocaten
Pitch
Brief Deal Description
Karmijn Kapitaal, a Dutch private equity investor, has acquired a majority stake in Natural Cosmetics Holland (NCH), a Dutch producer of environmentally friendly deodorant and other personal care products. NCH operates from a zero-emission factory in Beverwijk and focuses on producing natural personal care products for various brands, including Wild, Lekker, and their own brand, We Love The Planet. All NCH products are made with environmentally friendly and natural ingredients, completely free of substances such as aluminum and parabens. Furthermore, NCH is a social enterprise with a strong commitment to diversity and inclusiveness, offering opportunities for individuals facing employment challenges. NCH sought a new partner to facilitate further growth and development, leading to Karmijn's acquisition of a majority stake in the company.
Why Does This Deal Deserve a Nomination?
Sustainability is the defining trend of our times. In a traditional personal care landscape – Karmijn Kapitaal and Natural Planet understand the need for eco-conscious personal care products. This deal sets a new industry standard by showing that profitability and environmental responsibility investments can go hand-in-hand. Karmijn will help Natural Planet to grow sustainably as a/o a producer of the greenest deodorant (solid, no water, and sustainable package material) by investing in the organization and collaborating with management. Furthermore, the deal involved several shareholders with different interests and ways forward (sometimes opposing). Karmijn managed to keep the key stakeholders on board and align the different interests in order to enable the company to be ready for the future and meet its ambitions.
Deal Rationale
Around two years ago, Karmijn started with desk research in the personal care industry. We've learned that there are already a lot of production techniques and innovative products available that limit the environmental impact of the personal care products we daily use. However, when looking at the shelves in the average supermarket or drugstore, we didn't find these products (yet). During our research, we found a company that fully focuses on making personal care products sustainable: Natural Cosmetics Holland. Not only did they make the products, but they also understood customers because of their own brand, We Love The Planet. A perfect combination.
For Karmijn, the purchase of our stake in Natural Planet Holding with Natural Cosmetics Holland as its subsidiary is just the start of further growth and add-on investments. In the end, the deal rationale sums up into four main points:
A strong growing company (first-mover advantage) in a growing market where there is a need for sustainable personal care products coming years from customers, brands, and private label-clients.
The fast turnover rate of the products made by Natural Cosmetics Holland (i.e. deodorant is used on a daily basis).
Combining customer insights (via own brand) with innovative R&D and production power.
Clear and feasible upward potential by further professionalization of the organization and strengthening of its management team.
What Is the Impact of This Deal for the Company?
The founder and management had experienced significant growth in recent years (+75% year-over-year). As said by the founder in one of the first introductory meetings with Karmijn: "I can make something out of nothing, but I need a partner to go from something to something bigger." Management encountered growth pains and needed a partner who had demonstrated experience in further professionalization and expanding into the next growth phase while keeping the culture of the company. Having Karmijn as a partner for 6 months, the impact is shown:
– Management was able to increase their personal stake in the company. Next to that, an experienced CEO was hired to elevate the company to the next level.
– An ambitious strategy for the coming 5 years was set out in several sessions with Karmijn, founder, and management.
– Focus on operational excellence: i.e. two external experts (with over 20+ years' experience in personal care) entered the organization to further professionalize the organization, commercially and productionally / R&D.
– The overall employee engagement has increased: employees feel empowered in taking up the next phase of growth.
– Increased focus on innovation and R&D: i.e. hiring a new R&D manager, funds to further develop the product portfolio.
What Is the Impact of This Deal for the Direct Stakeholders?
For Clients:
Natural Cosmetics Holland has a loyal client base that believes and advocates the mission of sustainable personal care. The deal impacts clients tremendously. Since the sustainable personal care sector is (still) small and young, there is room for further professionalization to compete with established and well-known corporates. Clients experience increased (consistent) quality of the products as changes in the production process are made for further optimization. In the future, increased innovation power will lead to a broader product portfolio for clients, helping them to increase their (zero) footprint in the bathroom.
For Providers of Raw Natural Materials:
Since there is no chemical emulsion in the raw ingredients, the quality of natural used materials is more fluctuating. Having a constant level of quality is demanded but not always possible. Together with providers of raw materials, Natural Cosmetics Holland is constantly innovating and experimenting on how sourcing of natural raw materials can be improved. Next to that, the increased professionalism and optimized production process, a stricter policy of acceptance of raw materials is implemented. This enforces more professionalism on (the very few) producers of natural raw materials.
For Banks:
Finding a financial institution who would provide transaction finance was not easy. We did not check all the boxes of "regular investments" because of the strong growth of the company and the use of natural ingredients (which gives by default an insecurity of i.e. stock). As financial institutions are making a shift in embracing the importance of sustainability, in practice this means that internal processes adapt slowly. Natural Cosmetics Holland shows that Rabobank is willing to take that leap and focuses on sustainable "small-sized" investments. We would like to thank Guus Vonk of the Rabobank for taking the time to truly understand the company and believing in that sustainable investments check different boxes.
For Our Mission on D&I:
We again succeeded in hiring a strong Female Executive, a serial MBO executive.
For Early Adaptors of Our Products:
Keep on going! More good stuff is coming!
What Is the Impact of This Deal on Society?
Shaking up the sector and making personal care brands, private label, and traditional production companies aware that it's time to change. Since most production companies make money because their products consist of >90% of water (and thus chemicals, because when there is water, there is life) – Natural Cosmetics Holland shows that you can be profitable without using water and only using natural ingredients. Even better: they show it sells. Consumers are ready for a natural bathroom. So are we!
What Was Most Complex About This Deal?
We had two different companies (Natural Cosmetics Holland and We Love The Planet) in one transaction, with (partly) different shareholders and company valuations, the majority of which wished to roll-over in the new holding company who owns both companies. We had 1 manager wanting to increase its stake in the company, 1 manager who wanted to leave the company, 1 founder who wanted to stay strategically involved.

You have not voted for anyone in this category yet.