Indutrade acquires SKS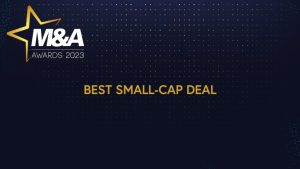 Stem op deze deal via de stempagina: Mena.nl/genomineerden-best-small-cap-deal-2023
Name of the deal: Indutrade acquires SKS
Date closed: 19 January 2023
Published value: Not published
Buyer(s): Indutrade Benelux, subsidiary of Indutrade AB
Target: SKS B.V.
Seller: Nobel Capital Partners and management
Involved firms and advisors
Legal Advisory Corporate/M&A | Florent
Financial Due Dilligence | Deloitte
M&A Advisory | EY
Legal Advisory Corporate/M&A | deBreij
Financial Due Dilligence | EY
Tax Advisory | Atlas Fiscalisten
Pitch
Deal Outline
SKS, a leader in process components for the hygienic process industry, has been acquired by Indutrade AB. This acquisition bolsters Indutrade's presence in the growing flow technology sector. Together, Indutrade and SKS will further develop SKS's offerings in the pharmaceutical sector while seeking commercial synergies in the food segment by expanding SKS's geographical footprint through the Indutrade network. SKS is a value-added supplier of flow technology products, holding a dominant market position in the Benelux region and boasting a growing German operation. Its clientele includes renowned companies such as Heineken, Friesland Campina, Pfizer, Abbott, as well as independent installers and system integrators. Indutrade AB is a publicly listed Swedish conglomerate with €2.4 billion in sales, comprising independently operating technology and industrial businesses worldwide. Notably, SKS marks the 200th acquisition in Indutrade's history, making it an exceptional milestone.
Why This Deal Should Win the Award for Best Deal Small-Cap 2023
The acquisition of SKS by Indutrade holds significant implications for several reasons. Primarily, it grants Indutrade entry into the strategically important flow technology market in the Benelux. The importance of flow technology has grown due to the increased focus on sustainability in food and pharmaceutical production. SKS brings critical expertise to this field. Moreover, both parties stand to benefit from the deal. It's not only about Indutrade establishing a foothold in the Benelux but also SKS gaining a powerful partner with a vast global network. Notably, the deal faced challenges such as a cross-border engagement with a Swedish listed conglomerate, managed within tight timelines, and amidst competition from numerous strategic and financial bidders.
In 2019, when Nobel acquired SKS, it became apparent that the company wasn't fully prepared for integration with strategic buyers, especially a publicly listed one, limiting the competitiveness of the auction process. SKS has since significantly professionalized across various departments, including business control, finance, and HR. Additionally, SKS accelerated its revenue growth and profitability, making it an attractive prospect for both strategic buyers and financial sponsors. By early 2022, Nobel and management recognized that they had achieved their joint value creation ahead of schedule. The focus shifted from organizational professionalization to international expansion, possibly via M&A or pan-European business hubs. Shareholders realized that a new partner might be better suited to realize this new growth path, prompting them to consider a potential sale of SKS.
Despite the M&A market's challenges in early 2022, including rising interest rates and uncertainty due to the Ukraine war, management and Nobel believed that SKS, with its leading position in resilient end-markets and consistent historical growth, could still be successfully sold. In late June 2022, EY was appointed as the M&A advisor and financial due diligence advisor.
After a preliminary selection round in September and a subsequent phase in which potential buyers confirmed offers based on thorough financial vendor due diligence, multiple bidders proceeded to the due diligence phase in October. Through close collaboration between SKS's management, Nobel, EY M&A, and the Transaction Services team, they managed to maintain control of the streamlined and highly competitive auction process.
As the process evolved, SKS's management expressed a growing preference for Indutrade AB. This added complexity to the auction, as a transaction with a Swedish listed company required adjustments to timelines due to the supervisory board's decision-making process. This resulted in a critical decision to either wait for formal approval during the holidays while stalling the process with other interested parties or proceed. High levels of trust among all parties were essential to conclude this transaction. Intensive communication and diplomacy, overseen by EY as the M&A advisor, played a crucial role in keeping all parties aligned throughout the process.
In summary, this transaction should be awarded Best Deal Small-Cap 2023 due to its overall benefits for all stakeholders (buyer, seller(s), employees, and clients) and its successful execution of a premium cross-border M&A process, even in complex market conditions.
Deal Rationale
SKS aspires to international growth, a logical step for the market leader in its home market. Collaborating with the international conglomerate Indutrade aligns with SKS's ambitions. Moreover, the dynamic food and pharmaceutical markets demand accelerated innovation, focusing on quality, safety, and efficiency. Partnering with Indutrade broadens SKS's horizons and brings knowledge from 200 companies, each with its expertise in various countries, products, and technical fields. This partnership gives Indutrade a strong foothold in the Benelux region, thanks to SKS's unique position in the food and pharmaceutical markets. This win-win collaboration promises sustainable and long-term growth, increased expertise, and broader market reach.
Impact of This Deal on the Company
The acquisition sets SKS on the path to further international expansion, solidifying its position in the hygienic process components market. It allows SKS to leverage its expertise across all domains. Furthermore, SKS will remain autonomous within Indutrade's decentralized structure, preserving its core identity of collaboration, innovation, and entrepreneurship that has driven its success.
Impact of This Deal on Direct Stakeholders
SKS, operating under Indutrade, retains its core identity, ensuring continuity for both clients and employees. This acquisition offers employees the opportunity to benefit from the knowledge and development programs within the Indutrade network, providing numerous additional opportunities for (international) career advancement. SKS' clients gain access to enhanced services and product offerings through the expansive network of Indutrade companies.
Impact of This Deal on Society
SKS's commitment to resource efficiency, hygiene, and safety in the food and pharmaceutical industry showcases its social responsibility. The acquisition extends the reach of SKS's sustainable practices, fostering a more environmentally friendly industry and accelerating innovation.
Most Complex Aspect of This Deal
Navigating the acquisition of SKS by Indutrade AB presented several challenges that required strategic actions. The impact of Covid-19 on the global supply chain, resulting in fluctuating inventory positions and a relatively high inventory level with an indirect (positive) margin implication for SKS, needed to be addressed. It was crucial to substantiate that this effect was sustainable due to SKS's value-added approach. The international nature of the deal was the most challenging factor. Engaging with Indutrade AB, a Swedish listed company, required navigating a complex corporate structure. In Sweden, the supervisory board holds the ultimate authority, necessitating timeline adjustments to align with their decision-making process, which conflicted with the competitive auction process. Ultimately, a mutually acceptable and workable process was established. Building mutual trust between the main stakeholders and individuals involved was crucial to successfully conclude the transaction in early January 2023.

Stemmen is niet meer mogelijk