50Five Group acquires NL Mab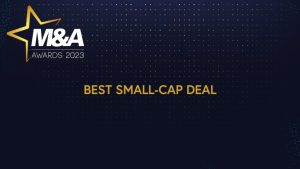 Stem op deze deal via de stempagina: Mena.nl/genomineerden-best-small-cap-deal-2023
Name of the deal: 50Five Group acquired NL Mab
Date announced and/or closed: 17 May 2023
Published value: 10-15 million euros
Buyer(s): 50five backed by Engie and JP Morgan Asset Management
Target: NL Mab
Seller: Jorrit van Maarschalkerwaart (Founder) & VPE Charge (Minority shareholder)
Involved firms and advisors
Involved firms and advisors buy side:
– The Audit Generation and Holla Advocaten
Involved firms and advisors target:
– The Audit Generation and Holla Advocaten
Involved firms and advisors sell side:
–  Clairfield Netherlands and Corporatewise
Pitch
Deal outline
NL Mab, founded in 2014, has been successfully active in placing and operating chargers in the Netherlands over the last 9 years. The fast-growing company has established a prominent presence within the semi-public domain with many high-profile customers. 50Five Group, backed by Engie and JP Morgan Asset Management, is an installation and technology company specialized in EV charging solutions. With the acquisition of NL Mab, 50Five expands its existing portfolio of chargers and subsequently strengthens its position in the Dutch charging landscape.

Why Should This Deal Win the Award for Best Deal Small-Cap 2023?
Industry Significance: In a time where sustainability and electric mobility are becoming increasingly commonplace, the recent merger and acquisition between 50Five and NL Mab has captured the attention of the Dutch e-mobility sector. Electric vehicles (EVs) are taking the automotive world by storm, and the demand for comprehensive charging infrastructure is on the rise.
Visionary Leadership: NL Mab, having actively shaped the Dutch e-mobility market since 2014, is a pioneer, especially in pioneering the Charging-As-A-Service model. The founder of NL Mab, Jorrit van Maarschalkerwaart, has played a leading role in developing innovative charging solutions, positioning NL Mab as a forward-looking industry player.
Strategic Growth: With its comprehensive presence across the entire e-mobility value chain, 50Five's CEO, Manfred Klumpenaar, underscores their unique position as a full-service e-mobility provider. This places them in the ideal position to guide customers through the entire transition to electric transportation, covering personal cars, vans, and even heavyweight transportation.
Customer-Centric Approach: For NL Mab's existing and potential customers, this acquisition promises progress. It signifies the addition of more resources and services to support the growth of existing and new charging locations. The continuity of NL Mab's staff and its office location in Haarlem provides customers and employees with a reassuring sense of stability during the transition.
Investor Confidence: The participation of institutional investors, including the Global Transportation Group of J.P. Morgan Asset Management, underscores unwavering confidence in 50Five's growth and ambitious future plans.
Industry Recognition: Furthermore, the recognition and support from organizations like Clairfield Nederland, CorporateWise, The Audit Generation, and Holla Advocaten have played a pivotal role in bringing this acquisition to fruition, highlighting the professionalism and industry partnerships that made this deal a reality.
In summary, the merger between 50Five and NL Mab is a standout contender for the Best Deal Small-Cap 2023 award. It aligns with the evolving e-mobility landscape's needs, demonstrating remarkable market potential, and it exemplifies small-cap businesses driving positive change. This deal is about more than numbers and financial transactions; it's about advancing the transition to sustainable electric transportation for a greener future.
Deal rationale
50Five aims for a stronger position in the European Charging-As-A-Service domain. With the acquisition of NL Mab, 50Five expands its existing portfolio of chargers and subsequently strengthens its position in the charging landscape.
What is the impact of this deal for the company?
Several benefits can be outlined for NL Mab: (1) Enhanced Service Portfolio: NL MAB can benefit from the diversification of services offered by 50Five. This may enable NL MAB to provide a more comprehensive range of e-mobility solutions, including those offered by 50Five, which can be appealing to a wider customer base. (2) NL MAB, as the acquired company, gains access to the resources, expertise, and capabilities of 50Five. This can include financial resources, technology, and a larger talent pool. NL MAB can leverage these resources to accelerate its growth and expand its offerings to its existing client base. (3) For NL MAB's staff, the acquisition provides stability and continuity. The retention of the NL Mab staff and office location in Haarlem ensures that employees and customers have a sense of stability during the transition.
What is the impact of this deal for the direct stakeholders?
The impact of this deal for the founder of NL Mab (Jorrit van Maarschalkwerwaart) is that it has provided him with financial security while allowing him to pursue what he enjoys most: remaining actively engaged in the commercial aspects of the electric vehicle charging infrastructure industry. Existing customers of NL MAB may experience improvements in service quality, access to a broader range of e-mobility solutions, and potentially an expanded network of charging stations. However, they may also need to adapt to any changes in branding or operational procedures resulting from the merger.
What is the impact of this deal on society?
The merger between 50Five and NL MAB positively impacts society by advancing the adoption of electric vehicles (EVs) and reducing environmental harm. It enhances convenience for EV owners and stimulates economic growth (further rollout at existing clients of NL Mab). The expansion of EV infrastructure supports sustainable urban development, aligns with government environmental initiatives, and broadens consumer transportation choices, contributing to a greener and more sustainable future.
What was most complex about this deal?
The most complex aspects of this deal included: Extracting and integrating data from NL MAB's back-office systems to create a coherent and comprehensive overview of the charging portfolio was challenging due to data complexities and variations. Reviewing and validating contracts from multiple parties to ensure that all contractual obligations and terms were accurately recorded and adhered to is a complex and time-consuming process.

You have not voted for anyone in this category yet.